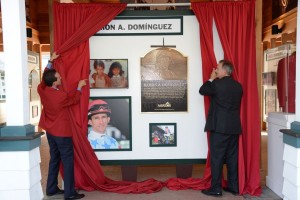 SARATOGA SPRINGS, N.Y. – The New York Racing Association, Inc. today welcomed three-time Eclipse Award-winning jockey Ramon Dominguez to the Saratoga Walk of Fame.
The Saratoga Walk of Fame, which opened in 2015, honors and showcases the achievements of those who have made significant contributions to the sport of thoroughbred racing and the advancement of the Saratoga Race Course. The covered structure, featuring the traditional Saratoga turrets, houses commemorative plaques and videos honoring various industry leaders, including owners, trainers and jockeys, who have made an indelible mark on thoroughbred racing.
Prior to the opening of the Saratoga Walk of Fame, the tradition of recognizing the greats of the game started in 2013 with the Red Jacket Ceremony, named for the eponymous blazer awarded the recipients.
The plaque for Dominguez was unveiled today during the Red Jacket Ceremony at Saratoga Race Course, and later installed in the Saratoga Walk of Fame. During the induction ceremony, Dominguez received an emblematic Saratoga red jacket.
"There are few individuals who can claim to be a standard bearer of modern racing, and Ramon is certainly one of them. Beloved by fans and fellow riders, Ramon set a standard of excellence throughout his career to which all jockeys aspire," said New York Racing Association CEO and President Chris Kay. "The Saratoga Walk of Fame is designed to pay special tribute to the greats of the game, and to those who have made significant contributions to thoroughbred racing. It is with great pleasure that we welcome Ramon, one of the most talented riders in racing history, to take his place alongside heroes and leaders of the sport."
Dominguez, a world-class jockey who began riding horses in Venezuela at age 16, was the leading rider on the New York circuit from 2009 through 2012, winning 20 individual meet titles. During his career, Dominguez won 4,985 races and earned nearly $200 million in purses. He received the Eclipse Award as Outstanding Jockey in 2010, 2011 and 2012.
Dominguez delivered many memorable moments for fans at Saratoga, including riding six winners in a single day's card on two separate occasions, making him the only jockey to accomplish this feat. Dominguez announced his retirement in 2013 following injuries sustained in an accident at Aqueduct Racetrack. He was inducted to the National Museum of Racing Hall of Fame in 2016.
"I am honored to join such legendary riders as Johnny, Jerry and Angel in the Saratoga Walk of Fame," said Dominguez. "To be considered in the same company as these three giants of the sport is truly humbling and gratifying. I would like to thank the New York Racing Association and the greatest fans in the world for their support during my racing career. I am incredibly lucky to have been able to live my dream, and am forever grateful to receive this recognition."
Past Red Jacket honorees include all-time Saratoga leading riders John Velazquez, Jerry Bailey and Angel Cordero, Jr. in 2013; Hall of Fame trainers D. Wayne Lukas and Allen Jerkens; and longtime New York Racing Association race announcer Tom Durkin in 2014; owners Ogden "Dinny" Mills Phipps and Marylou Whitney in 2015; and owner W. Cothran "Cot" Campbell and trainer William "Bill" Mott in 2016.
The 2017 summer meet at historic Saratoga Race Course continues through Labor Day, Monday, September 4. For more information about Saratoga Race Course, visit NYRA.com.