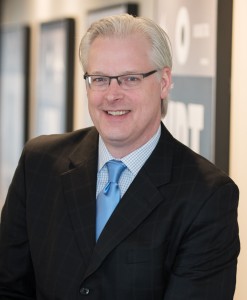 Chad F. Walter to lead commercial LED lighting solutions company
ALBANY, NY, – IntegraLED, a rapidly-growing commercial LED lighting solutions company and a National Grid approved Energy Solutions Partner, today announced the appointment of Chad F. Walter as President.
The announcement marks a significant step in the company's aggressive plans for expansion in the coming year as it seeks to provide cost and energy-saving LED lighting solutions to commercial, industrial and municipal organizations throughout the Capital Region.
IntegraLED, a division of Albany-based IntegraOptics, works with local companies to convert their property's outdated lighting systems to high-quality LED lighting. IntegraLED has experienced significant growth in the past year increasing its client base to approximately 300 local companies from 80 which have opted to upgrade to LED light fixtures.
As the new division president, Walter will lead the IntegraLED team in executing its strategic growth plan, developing new business, generating sales revenue, and ensuring the delivery of 2016 revenue targets. His duties will also include performance management, employee development, financial management and reporting, and growing IntegraLED's presence as an industry leader.
"We had very specific criteria for our new President and we were very strategic about finding the right person. Chad is that person," said David Prescott, CEO of IntegraOptics. "IntegraLED is off to a great start as we look to illuminate the Capital Region commercial marketplace in 2016. Chad's experience, business fundamentals, strategic planning and leadership will take IntegraLED to the next level."
"I am honored to take this role and excited about the possibilities that lie ahead. IntegraLED is well-positioned to tap new opportunities during this time of technological change. We are experiencing extraordinary results for our clients by providing a better product that also benefits the bottom line," said Walter. "I look forward to working with the entire team as we, quite literally, build a brighter future for the company and our customers."
IntegraLED attributes its success to the many positive features of LED lighting, including significant energy savings, therefore substantially decreasing operating and maintenance costs. LED lighting is also an environmentally-friendly solution which eliminates greenhouse gas emissions while containing no mercury or other harmful materials.
Walter explains that the upgrade to LED lighting begins with a free assessment by expert IntegraLED technicians, who then design a solution and provide a proposal custom-built to the needs of the property. IntegraLED works closely with the property owner to ensure a seamless, quick and efficient installation plan. All IntegraLED products come with a five-year warranty and an anticipated life span of 10 years or more.
IntegraLED also provides a range of financing options for companies which helps to defer a substantial amount of the lighting upgrade cost, including enhanced access to incentives and grant programs through its status as a National Grid approved Energy Solutions Partner, as well as third-party financing.
"Upgrading to LED lighting is more affordable than ever and provides an immediate return-on-investment. At IntegraLED, we provide an estimated cost savings with our initial assessment, which is realized on the next energy bill following installation," said Walter. "In addition to instant savings, LED lighting also offers property owners a more valuable capital asset. Our customized lighting solutions deliver the highest quality LED technology available while creating brighter and safer work environments which increase workplace productivity.
Walter brings considerable depth and breadth of experience in sales, marketing and operational leadership to IntegraLED. He previously served as President and COO of a $12 million IT consulting firm, and joins IntegraLED after spending the past four years as Director of Channel Development at Network Box USA, Inc., which is based in Houston, Texas. In that role, he was charged with all functions related to building and supporting Network Box's strategic Value Added Reseller program (VAR), including all operational development, recruiting, training and sales support for VAR partners within the United States, Canada and Latin America.
Walter is a native of Huntsville, Texas and attended Sam Houston State University. He is a longtime resident of Clifton Park with his wife Cindy and their two children Brian and Sierra.
IntegraLED is available to work with a wide variety of properties throughout the Capital Region, including municipalities, schools, colleges, warehouses, garages, parking lots, restaurants, hotels and hospitals.
For more information about LED lighting solutions offered through IntegraLED, visit www.integraled.com.
About IntegraLED
IntegraLED, an authorized National Grid Energy Solutions partner, specializes in the design of cost and energy saving LED lighting solutions for commercial, industrial, municipal, and nonprofit clients. The company delivers comprehensive service that includes everything from a free audit, to designing a customized solution, to a complete installation. IntegraLED's lighting products are held to the highest standards – ensuring our clients receive the best quality – and come with a five-year warranty. IntegraLED offers a range of financing options that include access to incentives, grant programs, and third party financing which help our clients defer a substantial amount of the cost of LED lighting upgrades. Visit www.integraled.com to learn more about reducing operating costs and saving money with IntegraLED.