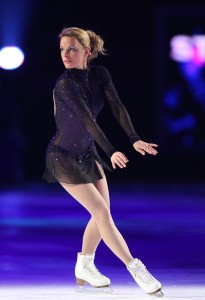 1988 and 1994 Olympic gold medalist to visit Empire State Plaza ice rink for skating demo and meet-and-greet with public
ALBANY, New York – Hannaford Supermarkets today announced that it will host two-time Olympic gold medalist Ekaterina Gordeeva at the Empire State Plaza ice rink on Friday, February 20 from 11 a.m. to 1 p.m.
Gordeeva's appearance coincides with Hannaford Free Skate Rental Fridays. Each Friday of the season, skate rentals at the Empire State Plaza ice rink are free, courtesy of Hannaford Supermarkets. Admission to the ice rink is free and open to the public.
"Hannaford is thrilled to welcome Olympic gold medalist Ekaterina Gordeeva to the Capital Region. Her grace and skill will undoubtedly inspire another generation of figure skaters to enjoy this timeless winter activity," said Hannaford Supermarkets Community Relations Specialist Brian Fabre. "We are particularly excited to host Ekaterina during the traditional winter school break so that as many families as possible may take advantage of this amazing opportunity to join a true Olympian on the rink."
Gordeeva will conduct a brief figure skating demonstration at 11 a.m. before inviting fans to join her on the ice until noon. A meet-and-greet offering the opportunity for free photos and autographs will be held from noon to 1 p.m.
Gordeeva is best known for winning the gold medal with her late husband and partner Sergei Grinkov in pairs' figure skating at both the 1988 Olympic Games in Calgary and the 1994 Olympic Games in Lillehammer. Gordeeva and Grinkov remain the youngest pairs team to ever win Olympic gold.
Following the tragic death of Grinkov from a massive heart attack during a training session in Lake Placid in 1995, Gordeeva returned to the ice as a solo performer in 1996. She is the author of the best-selling autobiography My Sergei, A Love Story, which chronicles her life and love affair with Grinkov.
This year marks Gordeeva's twelfth season as a solo skater with Stars on Ice and she continues to perform in figure skating exhibitions throughout the world. She currently resides in southern California with her husband Ilia Kulik and two daughters, Daria and Elizaveta.
General Rink Information
Hours: Every day from 11 a.m. to 8 p.m., weather dependent.
Cost to Skate: Free
Skate Rental: $3 for children younger than 12 and $4 for everyone 12 and up. Skate rentals will be available whenever the rink is open. A photo ID is required to rent skates. Every Friday is free skate rental Friday courtesy of Hannaford Supermarkets. For skate rental information, call (518) 473-6299. For all other ice rink related inquiries call (518) 473-1527.
Amenities: Full-service snack bar open Friday nights, weekends, and school holidays; skate lounge with lockers for personal items located on the Plaza level; and music.
About Hannaford Supermarkets
Hannaford Supermarkets, based in Scarborough, Maine, operates 186 stores in the Northeast. Stores are located in Maine, New York, Massachusetts, New Hampshire, and Vermont. All Hannaford stores feature Guiding Stars, America's first storewide nutrition navigation system and most stores have full-service pharmacies. Hannaford employs more than 26,000 associates. Additional information can be found at www.hannaford.com.