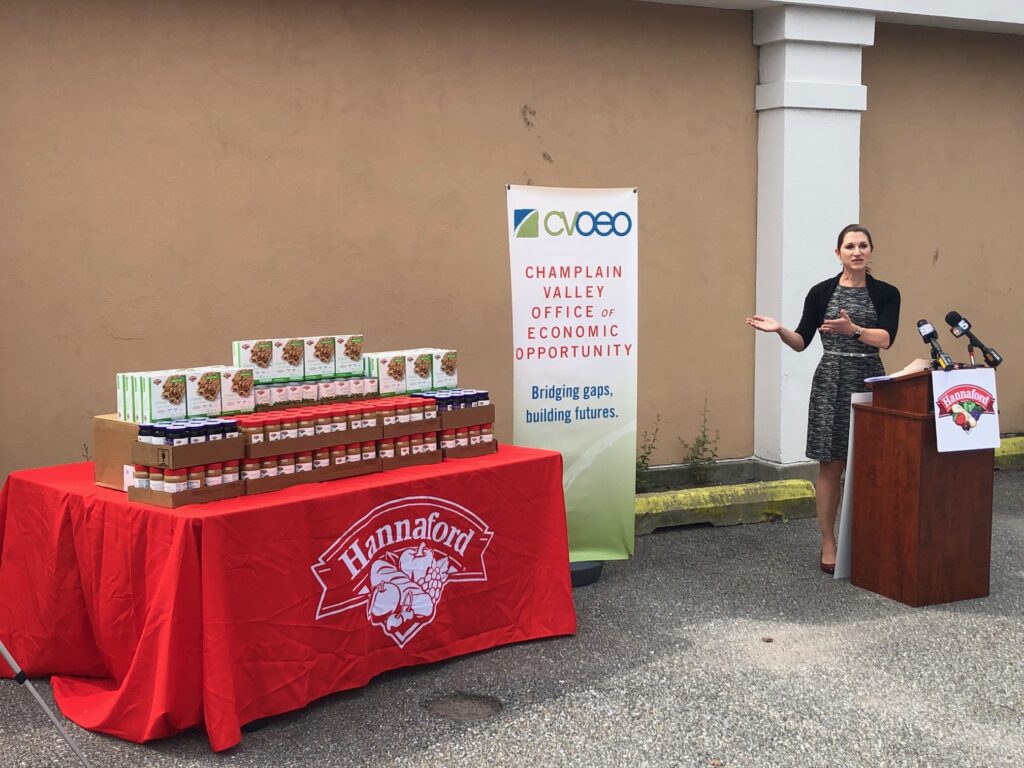 Donation one component of overall $250,000 commitment to help families across New England and New York meet basic needs during the pandemic
Burlington, Vt. – Hannaford Supermarkets today announced a $20,000 donation to support Vermont families as they seek to meet the most basic needs for themselves and their children during a period of economic hardship resulting from the coronavirus global health pandemic.
The donation includes $10,000 each to Champlain Valley Office of Economic Opportunity and BROC Community Action in Southwestern Vermont, which will use the funding to increase access to housing, food and employment opportunities for families in the greater Burlington, Rutland and Bennington areas. The Vermont donation is one part of an overall $250,000 commitment from Hannaford to help families in New England and New York adversely impacted by the pandemic.
According to a survey conducted by the Urban Institute in late March and early April, more than four in 10 parents reported that they or someone in their family lost work due to the coronavirus and that low-income parents were less likely to be able to work from home. The study also found that more than one-third of parents had problems paying for housing, utility, food or medical costs at the onset of the pandemic and reduced spending on food and savings, resulting in increased debt.
"The pandemic has resulted in a groundswell of new issues and struggles for families throughout our community, including health concerns, job loss, financial difficulties and decreased access to childcare and education for their children. Our lowest-income families have borne the brunt of this impact and need our help now more than ever," said Hannaford Supermarkets President Mike Vail. "At Hannaford, we consider the family unit the core of our community and are pleased to support parents and children throughout New England and New York with this donation. This effort truly exemplifies our commitment to being Greater than Groceries."
Champlain Valley Office of Economic Opportunity will use the funding from Hannaford to support the Chittenden Community Action Program, which provides financial assistance to families for a broad range of issues, including costs associated with purchasing work-appropriate clothing; obtaining birth certificates needed to complete housing applications; and health and safety-related house maintenance, such as furnace cleaning. The donation is expected to help approximately 30 Burlington-area families.
"This commitment from Hannaford has come at a time of great need in our community," said Champlain Valley Office of Economic Opportunity Executive Director Paul Dragon. "The funding will go to families most affected by the pandemic to help them weather this health and economic crisis. Champlain Valley Office of Economic Opportunity could not do its work without great community partners like Hannaford."
The $10,000 grant from Hannaford will support BROC Community Action in Southwestern Vermont's efforts to address housing challenges resulting from the pandemic, including relocating newly homeless families to permanent affordable housing. The donation will also be used to support the agency's food shelves in Rutland and Bennington which have experienced a spike in demand since mid-March, resulting in a 40 percent increase in the number of people served in Rutland. Additionally, the Bennington food shelf is now open five days a week as opposed to only two prior to the pandemic.
"This critical funding from Hannaford will assist many vulnerable Vermonters in need right now," said BROC Community Action in Southwestern Vermont CEO Tom Donahue. "Hannaford Supermarkets is a responsible business that truly cares about their communities and our residents. We are proud to be their partner in helping others during this incredibly difficult time."
The Champlain Valley Office of Economic Opportunity addresses fundamental issues of economic, social and racial justice and works with people to achieve economic independence. The agency provides vital services to more than 11,000 households and 25,000 individuals each year. For more information or to donate, visit CVOEO.org.
BROC Community Action in Southwestern Vermont works to change conditions that either cause poverty or stand in the way of its elimination. The agency assists low-income Vermonters with basic needs and helps them develop skills and resources for self-sufficiency through employment opportunities. For more information or to donate, visit BROC.org.
Since March 2020, Hannaford has donated $1.25 million to COVID-19 relief efforts, including hunger relief, homeless outreach organizations and local agriculture.
About Hannaford Supermarkets
Hannaford Supermarkets, based in Scarborough, Maine, operates 184 stores in the Northeast. Stores are located in Maine, New York, Massachusetts, New Hampshire, and Vermont. Hannaford employs more than 26,000 associates. Additional information can be found at Hannaford.com.