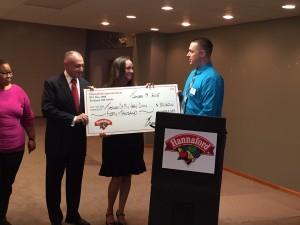 Donation coincides with re-opening of crisis prevention center following major damage to non-profit headquarters
SCHENECTADY, New York – Hannaford Supermarkets today announced a $50,000 donation to the Schenectady-based non-profit organization Things of My Very Own, Inc. The large-scale donation underscores Hannaford's long term support for Things of My Very Own, which has included ongoing assistance for services and programming provided by the organization to children in at-risk situations over the past five years.
The announcement coincides with today's re-opening of the organization's crisis prevention center located at 249 Green Street in Schenectady following major infrastructure damage to the new headquarters resulting from a faulty heating unit and burst pipes on January 8.
The Hannaford donation will be used to assist Things of My Very Own in providing crisis intervention services to children who have been impacted by extensive abuse or neglect across a 12-county area. It will also go towards the funding of the organization's new headquarters, which was purchased in August 2014.
"This generous contribution from Hannaford Supermarkets comes at a time of great need for our organization. Hannaford came on board as one of our first community partners five years ago and we are thrilled to continue our relationship with today's donation," said Things of My Very Own CEO/Founder Rayn Boncie. "On behalf of our staff, volunteers and the individuals we serve, I thank Hannaford for their commitment to furthering the Things of My Very Own mission and providing a sense of comfort to children and families during a critical juncture in their lives."
"All of us at Hannaford are humbled by the dedication and commitment demonstrated by Things of My Very Own to better the lives of children and families throughout the greater Capital Region," said Hannaford Supermarkets Community Relations Specialist Brian Fabre. "We are thrilled to provide much-needed funds to this vital organization at such a critical time in its growth. The grant is timely, given recent facility challenges, but not the reason the gift is being made. Hannaford is making this donation because we believe so much in the organization's mission of helping children in crisis."
Founded in 2008, Things of My Very Own serves abused, neglected and at-risk children by providing them with basic necessities in an effort to tide them over until they reach a more stable situation. The organization works to keep children with non-abusive family members and out of the foster care system by supplying impoverished guardians with emergency supplies, such as clothing, toiletries, school supplies or bedding, hours after a transition occurs.
Hannaford Supermarkets has a long history of community support for children and families in the greater Capital Region, recently demonstrated by a $200,000 gift to Albany Medical Center for the renovation of the family kitchen in the Ronald McDonald House Charities Family Suite at Children's Hospital; monetary donations to the Starlight Children's Foundation to assist the families of seriously ill children; and its annual Hannaford Helps Fight Hunger campaign, which has contributed more than $5.5 million in food, customer cash gifts and Hannaford cash donations to local food pantries and food banks since 2008.
For more information about Thing of My Very Own, visit www.tomvo.org.
About Hannaford Supermarkets
Hannaford Supermarkets, based in Scarborough, Maine, operates 187 stores in the Northeast. Stores are located in Maine, New York, Massachusetts, New Hampshire, and Vermont. All Hannaford stores feature Guiding Stars, America's first storewide nutrition navigation system and most stores have full-service pharmacies. Hannaford employs more than 26,000 associates. Additional information can be found at www.hannaford.com.