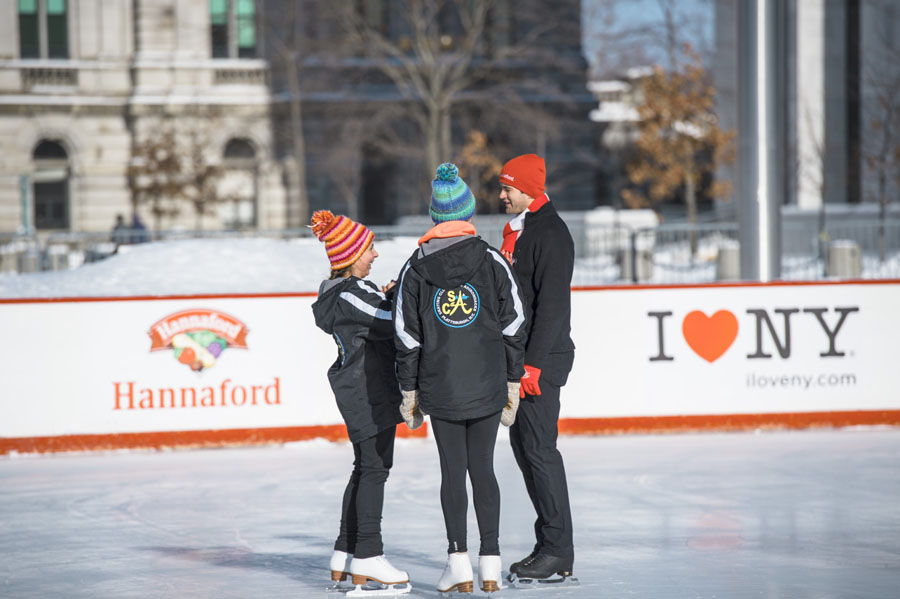 General Rink Information
Hours: Every day from 11 a.m. to 8 p.m., weather dependent. The rink will be closed daily from 3 to 4 p.m. for maintenance. (Closed 1 to 2 p.m. and 4:30 to 5:30 p.m. on Friday, February 10).
Cost to Skate: Free
Skate Rental: $3 for children 12 and under and $4 for adults. A photo ID is required to rent skates. Every Friday is free skate rental Friday courtesy of Hannaford Supermarkets.
Amenities: A full-service snack bar open Friday nights and weekends and a skate lounge with lockers for personal items are located on the Plaza level.
Paid visitor parking is available in the V-lot under the Empire State Plaza. Free parking in the East Garage on Philip Street off Madison Avenue is available after 5 p.m.
For information about Winter at the Plaza events, including directions, parking, and ground rules, visit www.ogs.ny.gov.  For additional updates, visit Empire State Plaza Events on Facebook, follow @plazaevents on Twitter, or call (518) 474-4759.
About Hannaford Supermarkets
Hannaford Supermarkets, based in Scarborough, Maine, operates 181 stores in the Northeast. Stores are located in Maine, New York, Massachusetts, New Hampshire, and Vermont. Hannaford employs more than 27,000 associates. Additional information can be found at www.hannaford.com.