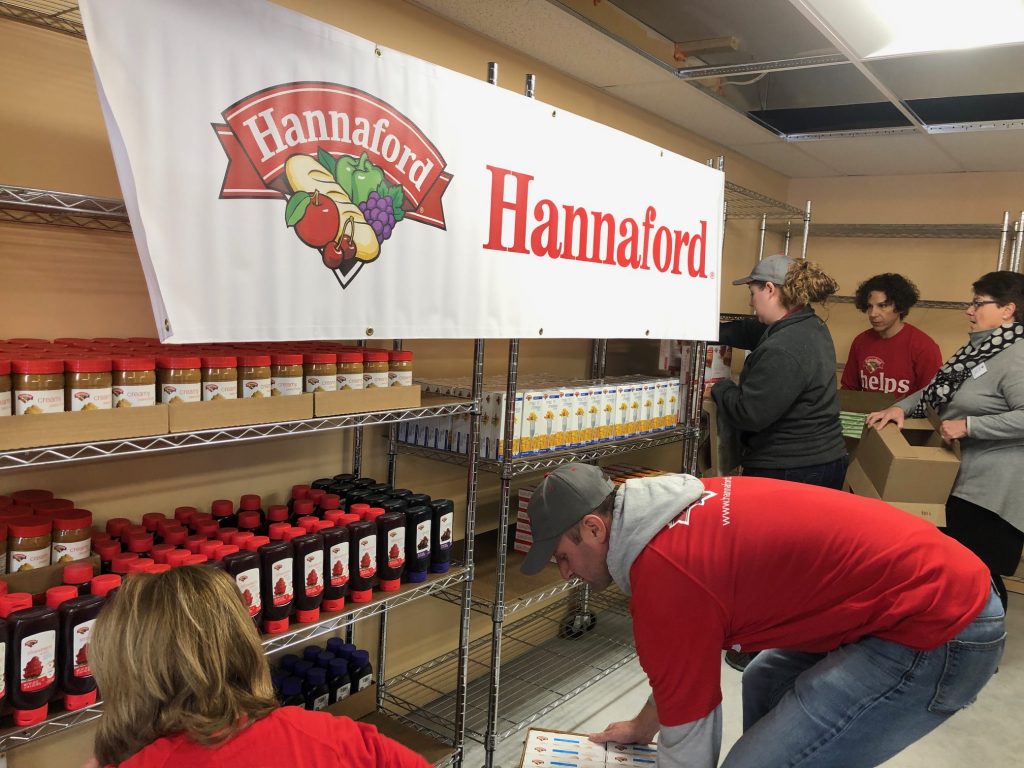 Hannaford and Adirondack Thunder to host food drive to benefit Open Door Mission on December 6
GLENS FALLS, New York – Hannaford Supermarkets today announced a $30,000 donation to the Open Door Mission, which will enable the non-profit organization to widely expand its food pantry and triple the number of families it serves in the greater Glens Falls area.
As a result of the grant, the Open Door Mission will relocate the food pantry to its headquarters at 226 Warren Street in downtown Glens Falls. The pantry, which previously existed as only a single 12-foot shelf, is expected to serve up to 300 families each month when it begins operations later this month.
Volunteers from Hannaford joined representatives from the Open Door Mission this afternoon to stock the new pantry with more than 100 cases of shelf-stable food, which was also donated by Hannaford.
"Hannaford Supermarkets is strongly committed to helping alleviate hunger throughout the communities we serve. As we celebrate the holiday season, it's more important than ever to lend our support to the organizations who share in our mission to combat hunger," said Hannaford Supermarkets Community Relations Specialist Brian Fabre. "We hope this donation assists the Open Door Mission in its efforts to feed those most in need."
Designed to replicate the look and feel of a grocery store, the pantry will offer an enhanced atmosphere for families who rely on the vital community resource. The Open Door Mission also plans to host nutrition and cooking classes at the pantry in the future.
"We're grateful to Hannaford for partnering with us to build our new and expanded food pantry that will impact more local families than ever before. Hannaford has a strong tradition of supporting many locally-based organizations like ours and this donation will accelerate our efforts to broaden our impact," said Open Door Mission President and CEO Kim Cook.
In an effort to further stock the pantry in advance of its opening, Hannaford and the Adirondack Thunder will team up to host a food drive to benefit the Open Door Mission when the Thunder hosts the Maine Mariners at Cool Insuring Arena on Friday, December 6. The food drive will get underway at 5:30 p.m. Face-off is at 7 p.m.
Fans attending the game are encouraged to bring a non-perishable food item, which will be donated to the Open Door Mission. The collection will take place in the main lobby of the arena. Volunteers will accept donations through 7:30 p.m.
Fans who donate a non-perishable item will receive a voucher for a free ticket to the Adirondack Thunder home game on Friday, December 20. The voucher may be redeemed at the Upstate Chevy Dealers Box Office at Cool Insuring Arena.
"We look forward to partnering with Hannaford on our annual food drive, which benefits a critical organization in Glens Falls. Our food drive grows each year and we hope to continue that trend again this weekend," said Adirondack Thunder President Jeff Mead. "We encourage fans to give back to the community by bringing a non-perishable item to Friday's game and thank them for their support."
Hannaford Supermarkets has a longstanding commitment to supporting hunger relief in its communities. In 2018, Hannaford donated nearly 26 million pounds of food throughout the Northeast, including 5.3 million pounds in New York; and raised $1.1 million in partnership with its shoppers to feed individuals in need through the annual Hannaford Helps Fight Hunger program.
Founded in 1991, Open Door Mission offers food, shelter, Code Blue, addiction recovery programs and connection to resources to individuals in Warren, Washington and northern Saratoga Counties. Open Door Mission serves more than 1,600 meals a month, provides an eight-bed homeless shelter and distributes thousands of pounds of food to local social service organizations. The Open Door Mission also partners with local schools to provide weekend lunches for students in local schools. For more information about the Open Door Mission, visit OpenDoor-NY.org.
About Hannaford Supermarkets
Hannaford Supermarkets, based in Scarborough, Maine, operates 182 stores in the Northeast. Stores are located in Maine, New York, Massachusetts, New Hampshire, and Vermont. Hannaford employs more than 26,000 associates. Additional information can be found at www.hannaford.com.