Donation result of charitable initiative in celebration of Rome store opening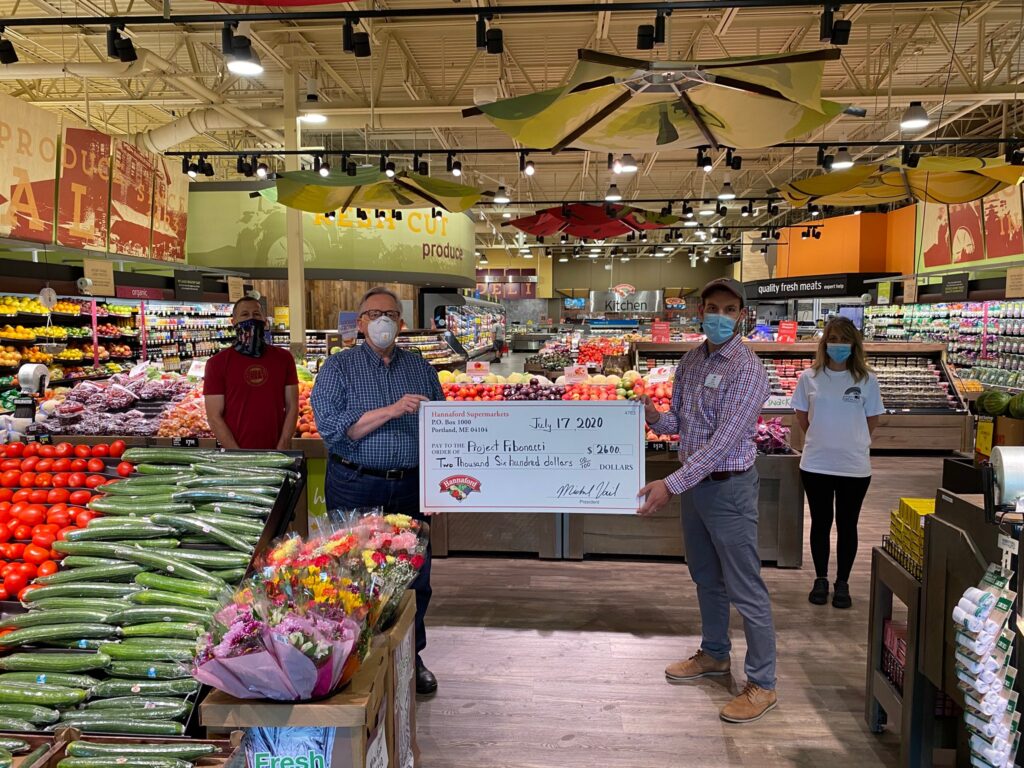 Rome, N.Y. – Hannaford Supermarkets today announced the results of a charitable initiative in partnership with Copper City Brewing Company to raise funds for local non-profit organization The Project Fibonacci Foundation.
For every beer sold at Copper City Brewing Company from June 20 through July 4, Hannaford donated $1 to The Project Fibonacci Foundation. The charitable initiative saw 2,600 beers sold during the time period, yielding a $2,600 donation for the Rome-based educational organization.
The donation from Hannaford is one in a series of community initiatives in celebration of the recent opening of the new Rome store, which welcomed its first shoppers on June 20.
"All of us at Hannaford are excited to be a part of the Rome community and we thank our neighbors for the warm welcome we've received over the past month," said Hannaford Supermarkets Rome Store Manager Kevin King. "We're pleased to further our commitment to this outstanding community by partnering with a local small business to support The Project Fibonacci Foundation, which teaches children important skills that serve as building blocks for successful education and career paths."
"Such incredible timing for the generosity displayed by Hannaford," said Copper City Brewing Company Co-Owner Dan Frieden. "Their opening promotion was a needed boost for a very small brewery and an essential non-profit. Project Fibonacci is the path to this city's bright future and Copper City Brewing was honored to be a part of this collaboration."
The Project Fibonacci Foundation is dedicated to promoting science, technology, engineering, arts and math (STEAM) educational opportunities for children in New York State, including in the Rome area.
"It is such a great honor and a hopeful sign of our times that local organizations can come together to benefit STEAM leadership for our youth," said The Project Fibonacci Foundation Executive Director Andrew Drozd. "We are fortunate to have the support of valuable community partners and friends at Copper City Brewing Company and Hannaford Supermarkets."
In addition to this most recent community program, Hannaford donated $10,000 to the Connected Community Schools Market Place within the Rome City School District.
The Rome Hannaford store is located at 808 West Chestnut Street. Store hours are 7 a.m. to 10 p.m. daily. Pharmacy hours are Monday through Friday 9 a.m. to 8 p.m.; Saturday 9:30 a.m. to 4 p.m.; and Sunday 9:30 a.m. to 2 p.m. Dedicated shopping hours for seniors and at-risk individuals are Tuesday, Wednesday and Thursday from 7 to 8 a.m.
The 49,480 square-foot store includes a variety of features designed to create a convenient shopping experience, including Hannaford-To-Go, a service which allows customers to order their groceries online and pick up at the store. Additionally, the store features a pharmacy with a drive-thru and private consultation area.
Hannaford operates 51 supermarkets in New York. Every Hannaford store donates rescued food to local hunger relief, and regularly supports local charities and schools.