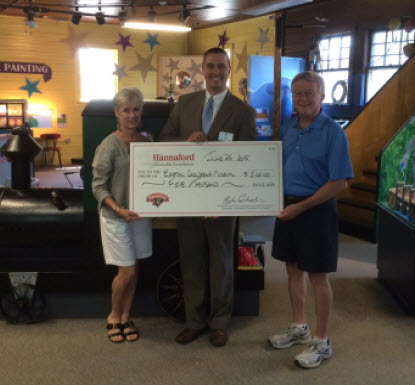 NORTH EASTON, Massachusetts – The Hannaford Charitable Foundation today announced a $5,000 donation to the Children's Museum in Easton to support the expansion and revitalization of a program that promotes health and wellness for community youth.
The Happy, Healthy Kids program fosters healthy and active lifestyles for area children through exhibits that encourage interactive play, exercise, nutrition and wellness.
"All of us at Hannaford are thrilled to support the Children's Museum in Easton as they continue to provide engaging and captivating early learning activities to families throughout southeastern Massachusetts," said Hannaford Supermarkets Regional Community Relations Specialist Brian Fabre. "We hope this donation will assist the museum in its efforts to create a new generation of healthy kids and lifelong learners."
Designed to encourage children to become active, the Happy, Healthy Kids program features a number of dynamic components, including the Wild Place fenced outdoor learning center; the Kids Clinic exhibit, which encourages exercise and seeks to lessen fear of doctor visits; the Kids Café, which teaches children about healthy food choices; the Art Studio, where children can engage in healthy creative expression; and the Play for All! Program, which creates an Autism-friendly atmosphere and programming for families.
"We are so excited by this vote of confidence from Hannaford Supermarkets and the opportunity it gives us to make a significant impact on the health and well-being of the children and families we serve," said Children's Museum in Easton Executive Director Paula Peterson.
The only youth organization of its kind in southeastern Massachusetts, the Children's Museum in Easton has contributed to the cultural and social learning of more than 825,000 children and family members. The museum works with more than 110 schools, social service agencies and community organizations and offers more than 130 programs, classes, field trips and special events.
For more information about the Children's Museum in Easton, visit www.childrensmuseumineaston.org.