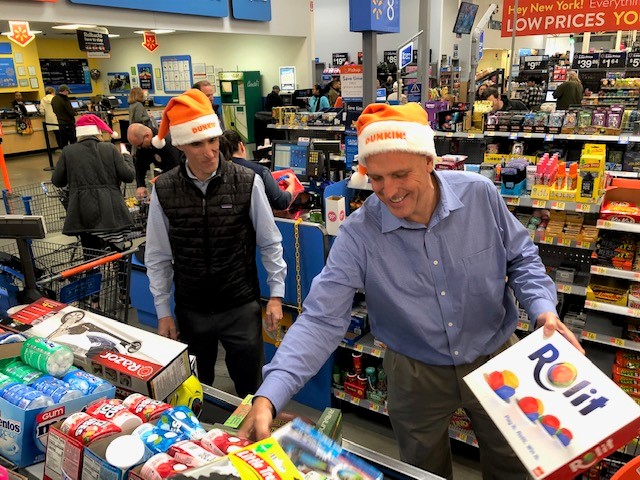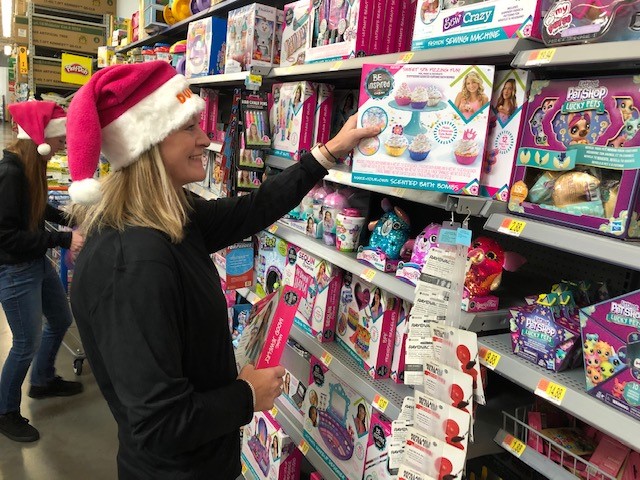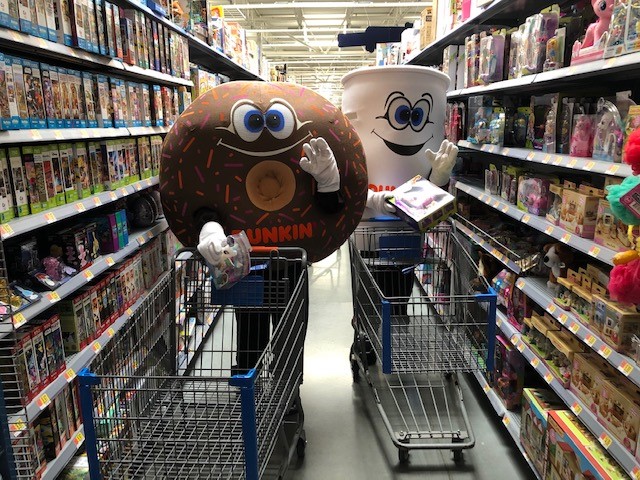 More than 100 Dunkin' restaurants in Capital Region currently serving as drop-off points for guests wishing to donate new, unwrapped toys
LATHAM, NY; – Dunkin' franchisees and U.S. Marine Corps Reserve volunteers today celebrated the season of giving during a $25,000 shopping spreeat Walmart in Latham to prepare for the annual Toys for Tots holiday distribution throughout New York State.
Made possible by a recent contribution of $25,000 from local Dunkin' franchisees to the Toys for Tots Foundation, the gifts will be distributed to thousands of children and families across the state ahead of the 2019 holiday season. Dunkin' franchisees also donated an additional $5,000 to purchase coats for children this holiday season.
This holiday season marks the 11th consecutive year that Capital Region franchisees have provided support for the U.S. Marine Corps Reserve's signature campaign, bringing the grand total over that span to $320,000 in support of the Toys for Tots initiative.
"We're fortunate to have such a dedicated and committed community partner in Dunkin' and are grateful for the support its franchisees have provided to keep our holiday program going for more than a decade," said Marine Gunnery Sgt. (Ret) Albert Roman, local coordinator of the Capital Region Toys for Tots campaign. "Their generosity will bring new toys to thousands of children throughout New York. Dunkin's support exemplifies the true spirit of the holiday season."
"Dunkin' is thrilled to bring the spirit of the holidays to children in need by supporting the efforts of the Marines who spearhead the Toys for Tots campaign," said Eric Stensland, integrated marketing manager for Dunkin'. "We are honored to continue our support and to be a part of this extraordinary effort that has such a vital impact on families in our community."
The Marine Corps Reserves' Dunkin' Toys for Tots Train will travel from Binghamton to Delanson to distribute thousands of toys and winter coats to local non-profit organizations and children in need on Saturday, December 7. Dunkin' will also help warm-up the volunteers and families at select stops with complimentary hot chocolate and baked goods during the annual holiday train delivery.
The Convoy of Hope, powered by Northern New York Sheriff's Coalition and Upstate Transit of Saratoga, will travel between Rouses Point and Fort Edward on Sunday, December 1. The Convoy, launched in 2018 and comprised of multiple tractor trailers carrying thousands of toys, will begin in Rouses Point and travel south to deliver toys and coats in various communities before concluding in Fort Edward.
 The Toys for Tots collection drive is currently underway at more than 400 locations throughout the Capital Region, including more than 100 local and regional Dunkin' restaurants, which will serve as drop-off points for guests wishing to donate new, unwrapped toys.
The Marines will work with more than 200 community agencies to distribute toys this holiday season and will be equipped to serve 200,000 children.
To learn more about Dunkin', visit www.DunkinDonuts.com or subscribe to the Dunkin' blog to receive notifications at https://news.dunkindonuts.com/blog.
###
About Dunkin'
Founded in 1950, Dunkin' is America's favorite all-day, everyday stop for coffee and baked goods. Dunkin' is a market leader in the hot regular/decaf/flavored coffee, iced regular/decaf/flavored coffee, donut, bagel and muffin categories. Dunkin' has earned a No. 1 ranking for customer loyalty in the coffee category by Brand Keys for 13 years running. The company has more than 12,900 restaurants in 42 countries worldwide. Based in Canton, Mass., Dunkin' is part of the Dunkin' Brands Group, Inc. (Nasdaq: DNKN) family of companies. For more information, visit www.DunkinDonuts.com.