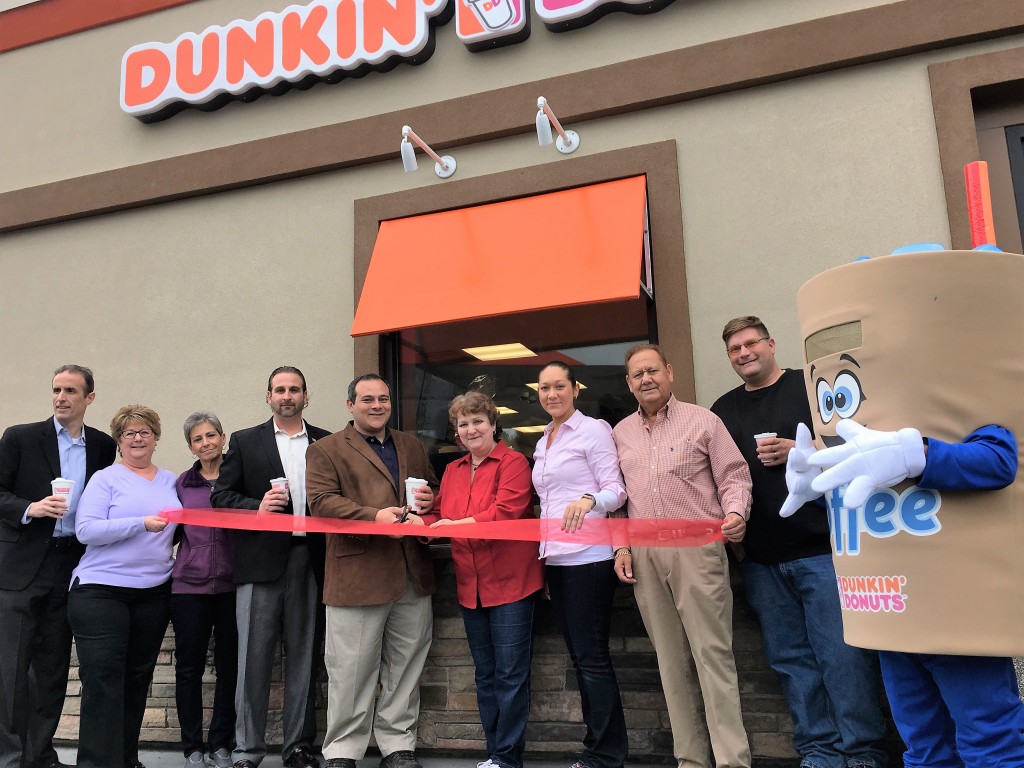 Grand Opening Celebration Highlighted by
Ribbon Cutting, Travel Mug Giveaway
RAVENA, NEW YORK; — Dunkin' Donuts, America's all-day, everyday stop for coffee and baked goods, announced the opening of a new restaurant in Ravena at 2450 Route 9W. In celebration of the grand opening, the restaurant hosted a ribbon-cutting ceremony with Village of Ravena Mayor William Misuraca along with other local officials. The restaurant also offered guests a free Dunkin' Donuts travel mug, and the opportunity to receive a free donut with every beverage purchase, while supplies last.
The new restaurant is open from 5 a.m. to 10 p.m. Monday through Saturday, and on Sundays from 6 a.m. to 10 p.m. It employs approximately 12 crew members. The restaurant has comfortable seating and provides a welcoming environment for guests to enjoy Dunkin' Donuts' high-quality food and beverages in a friendly and fun atmosphere. The new restaurant offers free Wi-Fi. Additionally, the restaurant includes sustainable features and practices including energy-efficient LED light fixtures and indoor air quality management.
The new restaurant in Ravena serves a complete menu featuring Dunkin' Donuts' world famous freshly-brewed Hot and Iced Coffees, along with Espresso, Cappuccino and Lattes, and the recently introduced Macchiato. The brand's beverage offerings include Hot and Iced Teas, Smoothies made with real fruit and low-fat yogurt, Hot Chocolates and Coolatta® frozen beverages as well. Dunkin' Donuts also serves a full lineup of delicious donuts, bakery goods and sandwiches, including the new Bacon Supreme Omelet Breakfast Sandwich. All Dunkin' Donuts menu items are always available any time of day, and guests are encouraged to customize their favorite food and beverages.
Al Prudencio, Lucia Prudencio, Cristina Prudencio and Miro Prudencio are the Dunkin' Donuts franchisees for the new restaurant in Ravena and currently operate four other Dunkin' Donuts restaurants in New York State.
"Dunkin' Donuts is one of the world's leading brands, and it has become a favorite in Ravena for busy, on-the-go people seeking delicious food and beverages any time of day," said Lucia Prudencio. "As business owners in the Capital Region, we are proud to serve the people who live and work here, and look forward to becoming a popular destination for guests."
Dunkin' Donuts is America's favorite all-day, everyday stop for coffee and baked goods, selling more than 1.9 billion cups of hot and iced coffee and espresso-based beverages, and approximately 2.4 billion donuts and MUNCHKINS® donut hole treats combined globally per year. Today, there are more than 11,700 Dunkin' Donuts restaurants worldwide – more than 8,400 Dunkin' Donuts restaurants in 41 states in the U.S. plus the District of Columbia, and more than 3,300 international restaurants in 42 countries worldwide.
To learn more about Dunkin' Donuts visit www.DunkinDonuts.com or follow us on Facebook (www.facebook.com/DunkinDonuts) and Twitter (www.twitter.com/DunkinNYCAP).
About Dunkin' Donuts
Founded in 1950, Dunkin' Donuts is America's favorite all-day, everyday stop for coffee and baked goods. Dunkin' Donuts is a market leader in the hot regular/decaf/flavored coffee, iced coffee, donut, bagel and muffin categories. Dunkin' Donuts has earned the No. 1 ranking for customer loyalty in the coffee category by Brand Keys for 10 years running. The company has more than 11,700 restaurants in 43 countries worldwide. Based in Canton, Mass., Dunkin' Donuts is part of the Dunkin' Brands Group, Inc. (Nasdaq: DNKN) family of companies. For more information, visit www.DunkinDonuts.com.