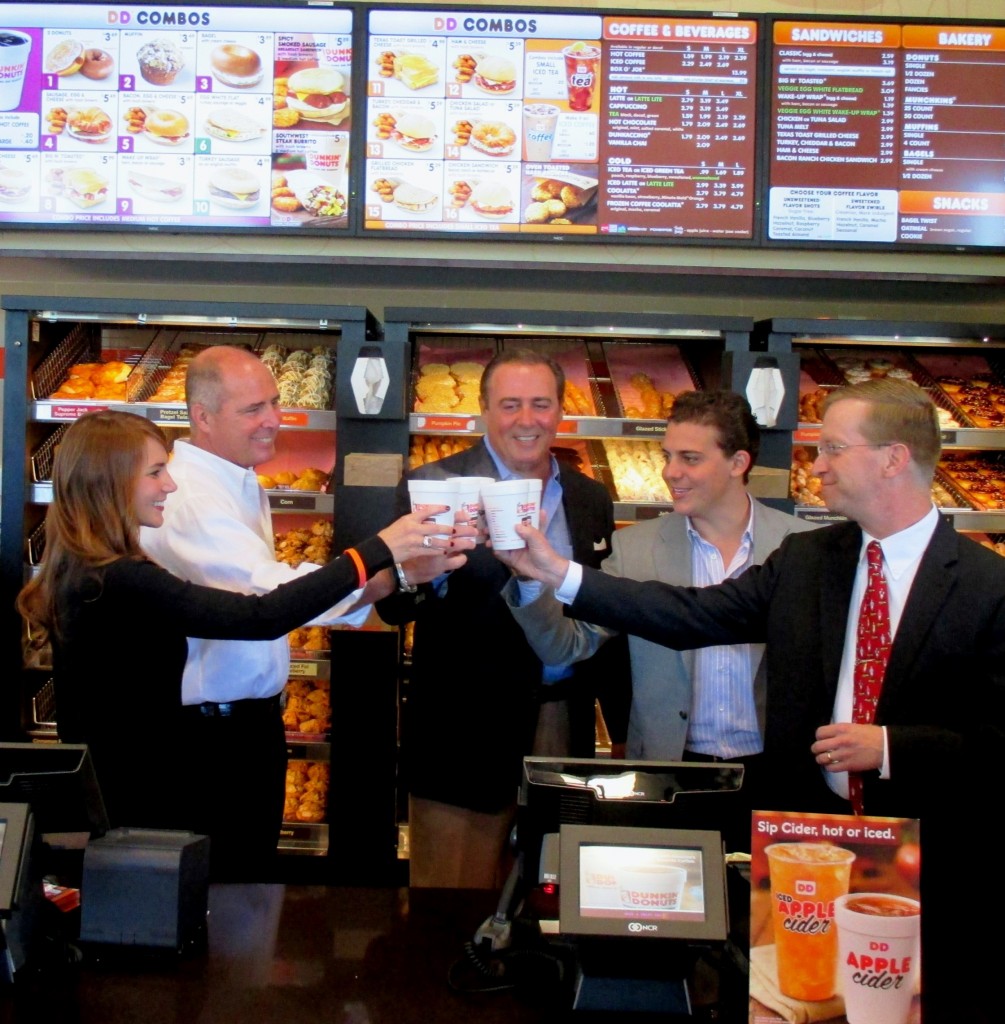 Facility replaces former location destroyed by fire in December 2013
MALTA, New York; – Nine months after his restaurant, central bakery and corporate headquarters were destroyed by fire during the holiday season, Dunkin' Donuts franchisee Jerry Burke today joined community leaders from Saratoga County to celebrate the opening of a new facility double the size of the former building at 509 Route 67 in Malta, NY.
Located on the same site of the restaurant and bakery gutted in a pre-dawn blaze on December 19, 2013, the new, two-story building is more than 14,000 square feet, including a 7,000 square foot central bakery that supplies baked goods for nearly two dozen Dunkin' Donuts restaurants owned by The Burke Companies in Saratoga and Warren counties.
"We're proud to reopen on the same site, bigger and better than before, just nine months after a tragedy that could have devastated our business," said Jerry Burke, principal of The Burke Companies. "We were determined to rebuild and were able to persevere through a lot of hard work and dedication. I'm thrilled to stand here today as we celebrate our reopening."
The Burke companies offered positions at its other Dunkin' Donuts locations to all employees who were impacted by the fire, several of whom are now working at the new facility and were in attendance for Wednesday's celebration.
The new Dunkin' Donuts restaurant is 3,500 square feet and features the brand's new "Cappuccino Blend" design scheme, including a warm interior color palate, soft seating, digital menu boards, a flat-screen television, free Wi-Fi, USB ports, and extra electrical outlets to enhance the guest experience. The new restaurant offers a complete menu of Dunkin' Donuts' internationally recognized coffees, lattes, donuts and bakery goods, and is open daily from 5 a.m. to 10 p.m.
The first 1,000 guests at an upcoming Grand Opening celebration at the new restaurant will receive an orange and pink "Malta DD" wristband, which they are invited to wear to the location to receive a 10 percent discount on all orders for the following month.
Located on the second floor of the facility is the new 3,500 square foot corporate headquarters of The Burke Companies, which invested a sizable portion of its own capital to finance the construction and expansion of the new building.
"The Burke Companies has been an integral part of Saratoga County for more than three decades," said Todd Shimkus, president of the Saratoga County Chamber of Commerce. "To open this beautiful new facility, and to do so in such short order, is a testament to the drive and dedication that has made The Burke Companies a success."
Dunkin' Donuts is America's favorite all-day, everyday stop for coffee and baked goods, selling more than 1.7 billion cups of hot and iced coffee and espresso-based beverages, and approximately 2.4 billion donuts and MUNCHKINS® donut hole treats combined globally per year. Today, there are more than 10,500 Dunkin' Donuts restaurants worldwide – more than 7,000 Dunkin' Donuts restaurants in 36 states in the U.S. plus the District of Columbia, and more than 3,000 international restaurants in 30 additional countries.
### 
About Dunkin' Donuts
Founded in 1950, Dunkin' Donuts is America's favorite all-day, everyday stop for coffee and baked goods. Dunkin' Donuts is a market leader in the hot regular/decaf/flavored coffee, iced coffee, donut, bagel and muffin categories. Dunkin' Donuts has earned the No. 1 ranking for customer loyalty in the coffee category by Brand Keys for eight years running. The company has nearly 11,000 restaurants in 33 countries worldwide. Based in Canton, Mass., Dunkin' Donuts is part of the Dunkin' Brands Group, Inc. (Nasdaq: DNKN) family of companies. For more information, visit www.DunkinDonuts.com.
Pictured (L to R) are Burke Companies District Manager McKenzie Burke Klopstock, Burke Companies Principals Jerry Burke and Tom Burke, Burke Companies District Manager Tom Burke III, and Saratoga County Chamber of Commerce President Todd Shimkus.