Staff members receive Dunkin' gift cards as a thank you for their work on the frontlines during the coronavirus pandemic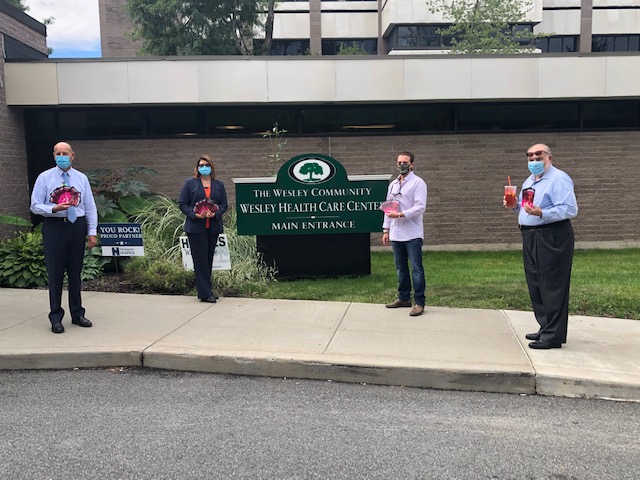 SARATOGA SPRINGS, New York – In an effort to give back to those caring for the most vulnerable population during the coronavirus pandemic, Dunkin' today delivered nearly $2,000 in gift cards to support frontline healthcare workers at The Wesley Community in Saratoga Springs, NY.
Today's special delivery was designed to express appreciation for the staff and their work to keep aging adults healthy and safe during the coronavirus pandemic. The gift cards will be distributed to nurses and staff members who have been working around the clock to care for residents at the senior living campus.
"Our Capital Region franchisees want these local heroes to know that we have their backs and they can count on Dunkin' to help keep them running," said Dunkin' Field Marketing Manager Eric Stensland. "Dunkin' is proud to give back and support these frontline healthcare providers who continue to work hard to care for the elderly in our community."
The delivery marks Dunkin's latest initiative in an ongoing effort to support frontline employees and volunteers during the pandemic. Since mid-March, Dunkin' has donated thousands of baked goods, coffee and gift cards to first responders, nurses, food pantry employees, coaches and child care staff.
"We are so thankful for this generous donation from Capital Region Dunkin' franchisees," said The Wesley Community Chief Executive Officer J. Brian Nealon. "The last several months have been challenging for everyone and these gift cards will provideour staff members a special thank you as they continue to provide exceptional care to our many senior residents on campus."
The Wesley Community is a non-profit profit senior living campus that serves more than 700 patients. For nearly 50 years, Wesley has provided seniors with a variety of levels of care including independent living, assisted living, long-term care, outpatient therapies, short-term rehabilitation and home care.
The Wesley Community's unique blend of community living, caregiving and resident enrichment activities ensures the highest quality service at every stage of life. The continuum of care model provides a distinct resource to aging individuals and their families in Upstate New York.
-30-
About Dunkin'
Founded in 1950, Dunkin' is America's favorite all-day, everyday stop for coffee and baked goods. Dunkin' is a market leader in the hot regular/decaf/flavored coffee, iced regular/decaf/flavored coffee, donut, bagel and muffin categories. Dunkin' has earned a No. 1 ranking for customer loyalty in the coffee category by Brand Keys for 14 years running. The company has more than 13,000 restaurants in 41 countries worldwide. Based in Canton, Mass., Dunkin' is part of the Dunkin' Brands Group, Inc. (Nasdaq: DNKN) family of companies. For more information, visit www.DunkinDonuts.com.
About The Wesley Community
The Wesley Community is a 37-acre, not-for-profit agency in Saratoga Springs, NY, which serves the needs of the elderly, as well as active seniors, adults and pediatrics. Sponsored by United Methodist Health and Housing, Inc., The Wesley Community's unique continuum of care community provides independent and assisted living for seniors, affordable independent senior housing, short-term rehabilitation and long-term care, as well as home care services and outpatient therapies available for people of all ages.