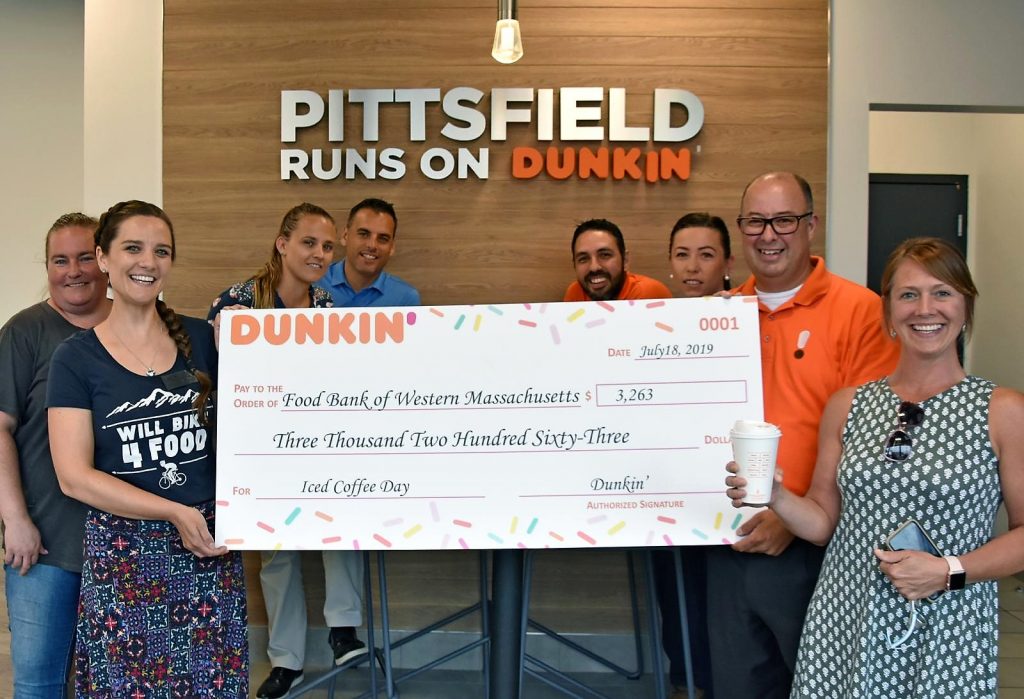 Donation is the result of annual Iced Coffee Day campaign
PITTSFIELD, MA; – Dunkin' today announced the results of its recent Iced Coffee Day campaign with a donation of approximately $3,200 to The Food Bank of Western Massachusetts.
During the one-day event on May 22, Dunkin' franchisees donated $1 from every cup of Iced Coffee sold at participating Dunkin' restaurants in Berkshire County to The Food Bank of Western Massachusetts.
"Dunkin' is thrilled to support The Food Bank of Western Massachusetts through our annual Iced Coffee Day program. This donation will help a local organization that is vital to families in need in Berkshire County," said Dunkin' Integrated Marketing Manager Eric Stensland. "I would like to thank all of our guests who joined us on Iced Coffee Day to help raise funds for Food Bank of Western Massachusetts."
 The Food Bank of Western Massachusetts has been feeding neighbors in need and leading the community to end hunger since 1982. They distribute food to local food pantries, meal sites and shelters across all four counties of western Massachusetts. In Berkshire County alone, The Food Bank distributes healthy food to feed households at risk of hunger through forty partner sites, including its own Brown Bag: Food for Elders program at eight local senior centers and its three Mobile Food Bank sites in south and north Berkshires.
"We're grateful for Dunkin's support of our cause. Every dollar raised enables us to provide the equivalent of three meals," said The Food Bank of Western Massachusetts Executive Director Andrew Morehouse.
Dunkin' keeps food bank staff and guests running all day long with Iced Coffee, both at home and on the go. Guests can customize their Iced Coffee in Dunkin' restaurants to be just the way they like it, with different dairy, sweetener and flavor options. Dunkin' is the market leader in the Iced Coffee category, delivering freshly brewed Iced Coffee to guests every day, with a smooth, delicious taste.
To learn more about Dunkin', visit www.DunkinDonuts.com or subscribe to the Dunkin' blog to receive notifications at https://news.dunkindonuts.com/blog.
###
About Dunkin'
Founded in 1950, Dunkin' is America's favorite all-day, everyday stop for coffee and baked goods. Dunkin' is a market leader in the hot regular/decaf/flavored coffee, iced regular/decaf/flavored coffee, donut, bagel and muffin categories. Dunkin' has earned a No. 1 ranking for customer loyalty in the coffee category by Brand Keys for 13 years running. The company has more than 12,800 restaurants in 44 countries worldwide. Based in Canton, Mass., Dunkin' is part of the Dunkin' Brands Group, Inc. (Nasdaq: DNKN) family of companies. For more information, visit www.DunkinDonuts.com.