Donation comes less than one week before Southern Tier celebrates National Dunkin' Day on September 29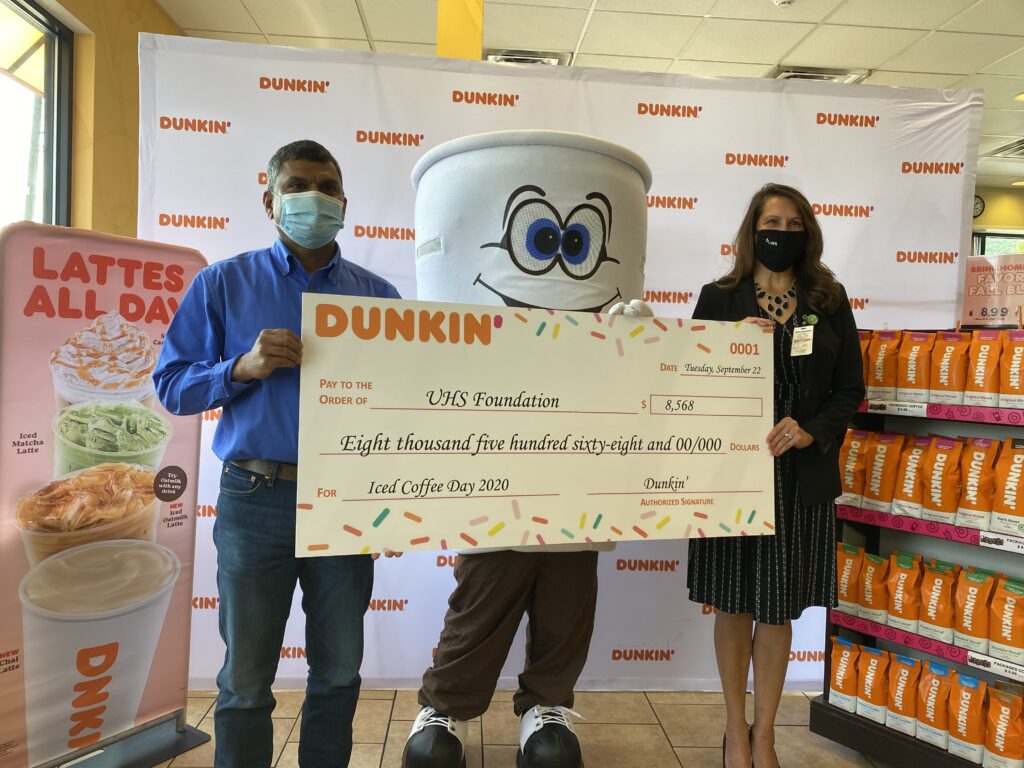 BINGHAMTON, NY; – Dunkin' today announced the results of its recent Iced Coffee Day campaign with a donation of more than $8,500 to the UHS Foundation.
The donation is taking place less than a week before National Dunkin' Day, which Dunkin' will celebrate in the Southern Tier with a special free coffee offer for its loyal guests. On Tuesday, September 29, participating Dunkin' restaurants in the Southern Tier will celebrate National Dunkin' Day by offering a free medium Hot or Iced Coffee with any purchase.
"We are excited to celebrate National Dunkin' Day by contributing to the tremendous efforts of the UHS Foundation. Dunkin' is thrilled to continue to support this organization, which is so vital to the Binghamton community," said Dunkin' Field Marketing Manager Eric Stensland. "I would like to thank all of our guests who joined us on Iced Coffee Day to help raise these important funds for the UHS Foundation."
During the one-day event on August 26, Dunkin' franchisees donated $1 from every cup of Iced Coffee sold at participating Dunkin' restaurants to the UHS Foundation. Since its inception in 2018, Iced Coffee Day has now generated more than $38,000 for non-profits in the Southern Tier.
This donation comes at an increased time of need for the UHS Foundation. As part of its response to the coronavirus pandemic, UHS Hospitals designated three floors at its two hospitals for the care of coronavirus patients, including the creation of negative-pressure rooms. UHS Hospitals also developed special procedures and locations for screening and testing, and established a coronavirus command center to coordinate all virus-related actions within its healthcare system.
"We are thrilled to have partnered with Dunkin' again for their annual Iced Coffee Day. The money raised through this charitable initiative benefits our local pediatric patients," said Andrea Mastronardi, Development Manager for the UHS Foundation. "Most recently, the funding from Iced Coffee Day helped purchase vision scanners for our pediatric offices. We are so grateful for this partnership and for the support we have received."
The UHS Foundation raises funds for state-of-the-art equipment, patient care facilities and community outreach programs that help UHS Wilson Medical Center and UHS Binghamton General Hospital remain leading providers of medical care in the region. The foundation's mission is to support innovation, service and quality at UHS by attracting donors and managing gifts, all in an effort to become the region's health-related charitable organization of choice.
To learn more about Dunkin', visit www.DunkinDonuts.com or subscribe to the Dunkin' blog to receive notifications at https://news.dunkindonuts.com/blog.
###
Founded in 1950, Dunkin' is America's favorite all-day, everyday stop for coffee and baked goods. Dunkin' is a market leader in the hot regular/decaf/flavored coffee, iced regular/decaf/flavored coffee, donut, bagel and muffin categories. Dunkin' has earned a No. 1 ranking for customer loyalty in the coffee category by Brand Keys for 14 years running. The company has more than 13,100 restaurants in 41 countries worldwide. Based in Canton, Mass., Dunkin' is part of the Dunkin' Brands Group, Inc. (Nasdaq: DNKN) family of companies. For more information, visit www.DunkinDonuts.com. 
About the UHS Foundation
UHS is a not-for-profit, comprehensive, regional healthcare system whose mission is to improve the health of those we serve through our commitment to excellence in all that we do. Founded in 1981, UHS provides a full range of medical, surgical, rehabilitative and long-term care services from more than 60 locations around New York's Southern Tier. The UHS Foundation raises private support to improve patient care facilities, equipment and programs at UHS.