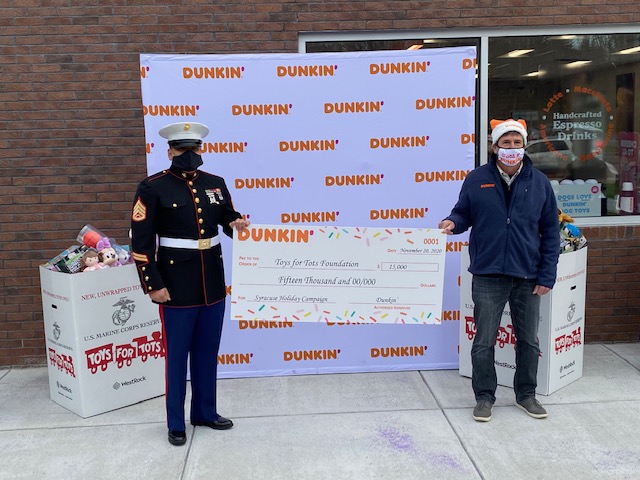 Dunkin' franchisees are donating $55,000 to support Toys for Tots programs across upstate New York facing collection challenges related to the pandemic
SYRACUSE, NY– Dunkin' today kicked off the season of giving by announcing a $15,000 donation from its Central New York franchisees to the Syracuse Tots for Tots holiday campaign.
The $15,000 donation, which will be used to purchase new toys as holiday gifts for children in need across Central New York, comes at a time of increased need for the iconic holiday campaign due to financial hardships and collection challenges related to the coronavirus (Covid-19) pandemic.
The donation is one component of a continued commitment by Dunkin' to the Toys for Tots program. In 2020, Dunkin' franchisees will donate a total of $55,000 to support the purchase of toys for children in need in multiple communities across upstate New York.
"Dunkin' is honored to support the efforts of the Marines, who are the driving force behind the Toys for Tots campaign. We are thrilled to partner with these heroes to support the children in our communities this holiday season," said Eric Stensland, field marketing manager for Dunkin'. "Bringing joy to children in need is a goal Dunkin' strives to accomplish throughout the year and especially during the holiday season. Toys for Tots is an extraordinary example of the spirit and meaning of giving and we can think of no better organization to support during this unprecedented holiday season."
The donation comes at a critical time for the Syracuse Toys for Tots collection effort, which has traditionally included toy drop-off points at dozens of businesses throughout the area that are no longer available due to health and safety concerns related to Covid-19.
"We are extremely thankful to Dunkin' for their generous gift as this funding is needed now more than ever due to the impact Covid-19 has had on our collection efforts," said Marine Staff Sergeant Edward Mora, local coordinator of the Syracuse Toys for Tots campaign. "This donation will assist us with purchasing additional toys and put us back on track to continue supporting our community, including the children who have been the most impacted by this ongoing pandemic. Thanks to the support of our Central New York Dunkin' franchisees, we can continue the necessary efforts to make sure that children in our communities do not miss the holidays as well." 
The Syracuse Toys for Tots holiday campaign serves Onondaga and South Cayuga Counties in Central New York. The U.S. Marine Corps Reserve will be equipped to deliver nearly 40,000 toys to more than 5,000 children across Central New York this holiday season.
In addition to supporting the Syracuse Toys for Tots program, Dunkin' franchisees across the state are stepping up to support similar Toys for Tots programs in Northern New York and the Capital Region. Northern New York Dunkin' franchisees will donate $10,000 to support the Jefferson County Toys for Tots program, while Albany Dunkin' franchisees have continued their decade-long support of the Capital Region Toys for Tots program with a recent $30,000 donation.
To learn more about Dunkin', visit www.DunkinDonuts.com or subscribe to the Dunkin' blog to receive notifications at https://news.dunkindonuts.com/blog.
###
About Dunkin'
Founded in 1950, Dunkin' is America's favorite all-day, everyday stop for coffee and baked goods. Dunkin' is a market leader in the hot regular/decaf/flavored coffee, iced regular/decaf/flavored coffee, donut, bagel and muffin categories. Dunkin' has earned a No. 1 ranking for customer loyalty in the coffee category by Brand Keys for 14 years running. The company has more than 12,600 restaurants in 40 countries worldwide. Based in Canton, Mass., Dunkin' is part of the Dunkin' Brands Group, Inc. (Nasdaq: DNKN) family of companies. For more information, visit www.DunkinDonuts.com.