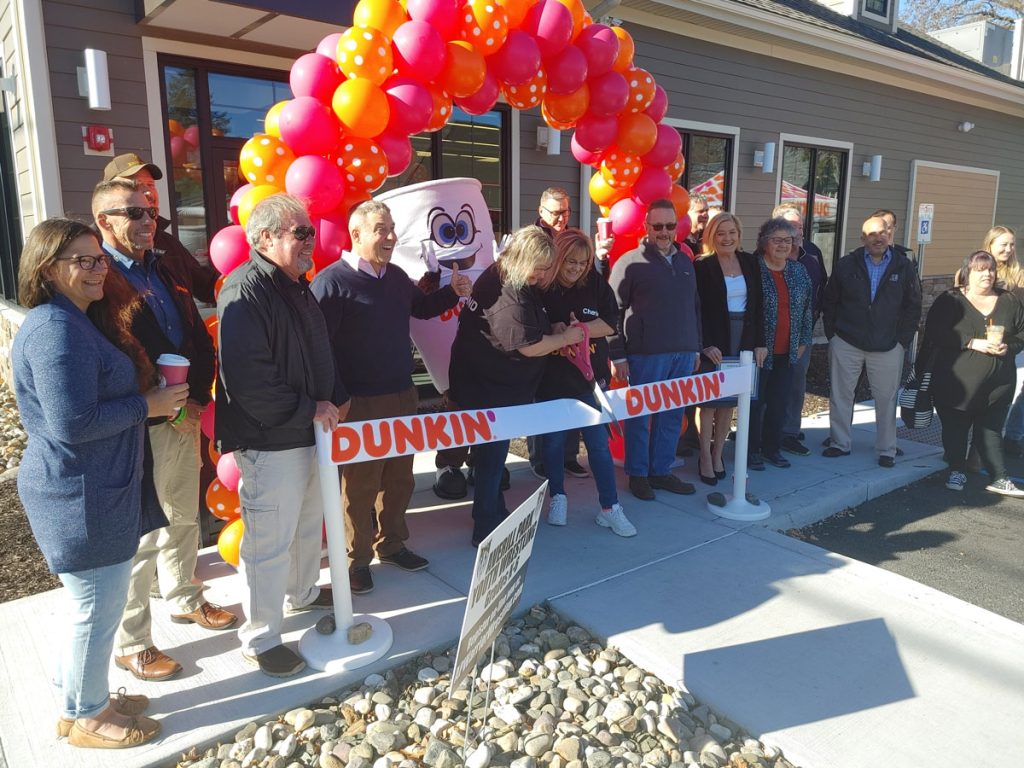 Brand-new restaurant in West Sand Lake with modern features and innovative technologies officially celebrates grand opening with special donation to Hope 7 Community Center
WEST SAND LAKE, NY; – Residents who live and work in Rensselaer County can now enjoy Dunkin's next generation store design. Dunkin', America's favorite all-day, everyday stop for coffee and baked goods, today celebrated the official grand opening of its brand-new restaurant at 3696 Route 43 in West Sand Lake, NY.
The Dunkin' restaurant celebrated the grand opening by donating $1,000 to the Hope 7 Community Center. The Hope 7 Community Center will use the funding to support its food pantry which assists children facing food insecurity on the East Side of Troy and Wynantskill.
The newly constructed 2,200-square-foot Dunkin' employs approximately 20 crew members and is the first store location to open in Rensselaer County that features Dunkin's new restaurant design with a modern atmosphere, innovative technologies and exciting elements, including:
Modern Design: The openness, colors and materials used in the design help to create an approachable, positive and energetic environment.
Premium Pours: Dunkin's signature cold beverages are now poured through an innovative tap system serving eight consistently cold beverages such as iced coffee, iced tea, Cold Brew and Nitro-Infused Cold Brew. Crew members will also use top-quality flavor-maximizing espresso machines to make hand-crafted drinks to order.
Dunkin' on Demand: Dunkin' has also introduced an area dedicated to mobile pickups, so that members of the Dunkin' Rewards loyalty program who order ahead via Dunkin's Mobile App can get in and out of the restaurant faster than ever before.
Increased Energy Efficiency: The new Dunkin' is a DD Green Achievement™ restaurant, which is designed to save 25% more energy compared to a standard Dunkin' restaurant
"We are thrilled to be a part of Dunkin's next generation store initiative and are excited to introduce this innovative new restaurant to Rensselaer County," said Dunkin' Franchisee Ivo Garcia. "The new menu offerings and approachable atmosphere will grab the attention of Dunkin' fans and help keep West Sand Lake running on Dunkin' for years to come."
The grand opening celebration also featured a ribbon-cutting ceremony, prize giveaways and special offers for valued guests.
To learn more about Dunkin', visit www.DunkinDonuts.com, or subscribe to the Dunkin' blog to receive notifications at https://news.dunkindonuts.com/blog.
####
About Dunkin'
Founded in 1950, Dunkin' is America's favorite all-day, everyday stop for coffee and baked goods. Dunkin' is a market leader in the hot regular/decaf/flavored coffee, iced regular/decaf/flavored coffee, donut, bagel, and muffin categories. Dunkin' has earned a No. 1 ranking for customer loyalty in the coffee category for 16 years running. The company has more than 12,600 franchised restaurants in 40 countries worldwide. Dunkin' is part of the Inspire Brands family of restaurants. For more information, visit www.DunkinDonuts.com.