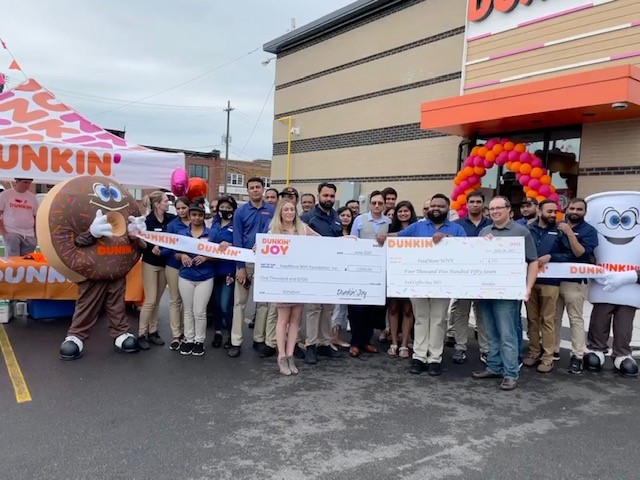 Dunkin' celebrates grand opening with more than $5,000 in donations to FeedMore WNY
BUFFALO, NY;  People who live and work in downtown Buffalo can now enjoy Dunkin's latest next generation store design. Dunkin', America's favorite all-day, everyday stop for coffee and baked goods, today celebrated the grand opening of its new restaurant at 180 Perry Street in downtown Buffalo.
As only the third restaurant in the Buffalo area to feature Dunkin's new restaurant design, the new 1,500-square-foot location also brings the first Dunkin' drive-thru to the city's downtown.
In celebration of the grand opening, Dunkin' made more than $5,000 in donations to FeedMore WNY, highlighted by $4,557 as a result of its recent Iced Coffee Day campaign, which took place on May 26. In addition, Dunkin's Joy in Childhood Foundation and the Dunkin' franchisee network made a joint contribution of $1,000, bringing the total donation to FeedMore WNY to $5,557.
The new downtown Buffalo Dunkin' restaurant employs approximately 15 crew members and features a modern atmosphere, innovative technologies and exciting elements, including:
Modern Design: The openness, colors and materials used in the design help to create an approachable, positive and energetic environment.
Faster than Ever Drive-Thru Experience: An exclusive On-the-Go drive-thru lane lets DD Perks® members who order ahead via Dunkin's Mobile App bypass the ordering lane and head straight into the line for the pickup window. Dunkin' is the first national restaurant brand to offer this type of drive-thru innovation and convenience.
Premium Pours: Dunkin's signature cold beverages are now poured through an innovative tap system serving eight consistently cold beverages such as iced coffee, iced tea, Cold Brew and Nitro-Infused Cold Brew. Crew members will also use top-quality flavor-maximizing espresso machines to make hand-crafted drinks to order.
Dunkin' on Demand: Dunkin' has also introduced an area dedicated to mobile pickups, so that members of the DD Perks® Rewards program who order ahead via Dunkin's Mobile App can get in and out of the restaurant faster than ever before. Guests will be able to track the status of their orders placed for pickup inside the restaurant via a new digital order status board.
Increased Energy Efficiency: The new Dunkin' is a DD Green Achievement™ restaurant, which is designed to save 25% more energy compared to a standard Dunkin' restaurant.
"We are thrilled to be a part of Dunkin's next generation store initiative and can't wait to bring this innovative new restaurant to the Buffalo community," said Nishi Patel, Dunkin' franchisee. "The new menu offerings and approachable atmosphere will grab the attention of Dunkin' fans and help keep Buffalo running on Dunkin' for years to come. We are also excited to honor the opening of our new restaurant with a donation to FeedMore WNY, which provides critical resources to the Buffalo community."
FeedMore WNY has been working since the beginning of the coronavirus pandemic to meet the increased demand for emergency food assistance throughout its service area. In 2020, FeedMore WNY distributed enough food to provide nearly 16 million meals to community members in need – approximately 4 million meals more than what the hunger relief non-profit distributed in 2019.
"FeedMore WNY continues to work tirelessly to help ensure no one in our community has to go without nutritious meals, but we cannot fulfill our mission without the support of partners like Dunkin'," said Catherine Shick, Chief Communications Officer for FeedMore WNY. "We are grateful to Dunkin' and its customers for this generous donation, which will provide nutritious food to hungry children, families, veterans and older adults throughout Western New York."
Dunkin' will continue to celebrate the grand opening with the community from Saturday, June 26 through Wednesday, June 30 by randomly selecting guests to win Free Coffee for a Year. Free Coffee for a Year Giveaway recipients receive a coupon book containing 4 Free Medium Hot or Iced Coffee coupons per month for 14 months good only at the location where coupon book was issued.
To learn more about Dunkin', visit www.DunkinDonuts.com, or subscribe to the Dunkin' blog to receive notifications at https://news.dunkindonuts.com/blog.
###
About Dunkin'
Founded in 1950, Dunkin' is America's favorite all-day, everyday stop for coffee and baked goods. Dunkin' is a market leader in the hot regular/decaf/flavored coffee, iced regular/decaf/flavored coffee, donut, bagel and muffin categories. Dunkin' has earned a No. 1 ranking for customer loyalty in the coffee category by Brand Keys for 14 years running. The company has more than 12,600 restaurants in 40 countries worldwide. Dunkin' is part of the Inspire Brands family of restaurants. For more information, visit www.DunkinDonuts.com.