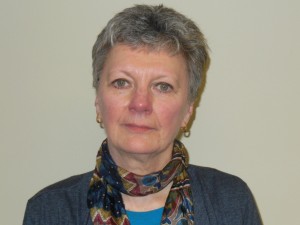 Westford resident recognized for commitment to health and wellness for local seniors
LOWELL, Massachusetts – A volunteer with Community Teamwork in Lowell has been selected by Hannaford Supermarkets as a "Hannaford Health Hero" for her dedication to increasing health and wellness awareness among local seniors.
Pat FitzGerald, 64, of Westford, serves as the volunteer leader in the Bone Builders program with Community Teamwork. In her role, FitzGerald organizes senior fitness classes focusing on balance and strength-building exercises and educates class attendees on osteoporosis-related topics, such as fall prevention and proper nutrition.
FitzGerald is the first Bay State resident to be recognized this year by Hannaford Supermarkets in conjunction with the Hannaford Health Hero program. Now in its third year, the program will recognize the work of 12 volunteers who inspire others within the community to make healthy choices for life on behalf of non-profit organizations.
"At Hannaford, we strongly believe in promoting health and wellness within the communities we serve," said Hannaford Supermarkets Community Relations Specialist Molly Tarleton. "We are thrilled to honor Pat as a Hannaford Health Hero and commend Community Teamwork for its commitment to encouraging healthy lifestyles for Massachusetts residents."
In recognition of the organization's commitment to health and wellness, Community Teamwork will receive a $500 donation from Hannaford Supermarkets. FitzGerald will also receive a $50 Hannaford gift card.
FitzGerald was nominated by Joan Aseltine, Bone Builders coordinator for Community Teamwork, which serves low-income individuals by providing opportunities for them to achieve stability, self-sufficiency and have an active voice and participation in the decisions that affect their lives.
In the nomination, Aseltine wrote, "Pat's leadership and quality of volunteer training has been the key to our successful Bone Builders program. She has made an enormous impact on the healthy lifestyles of over 300 individuals in the greater Lowell area."
Hannaford Supermarkets invites executive directors or volunteer coordinators of registered 501(c)(3) organizations throughout Massachusetts to nominate a volunteer or group of volunteers from their agency as a Hannaford Health Hero. Nominations may be submitted online at www.hannafordhealthhero.com.
About Hannaford Supermarkets
Hannaford Supermarkets, based in Scarborough, Maine, operates 184 stores in the Northeast. Stores are located in Maine, New York, Massachusetts, New Hampshire, and Vermont. All Hannaford stores feature Guiding Stars, America's first storewide nutrition navigation system, and most stores have full-service pharmacies. Hannaford employs more than 26,000 associates. Additional information can be found at www.hannaford.com.