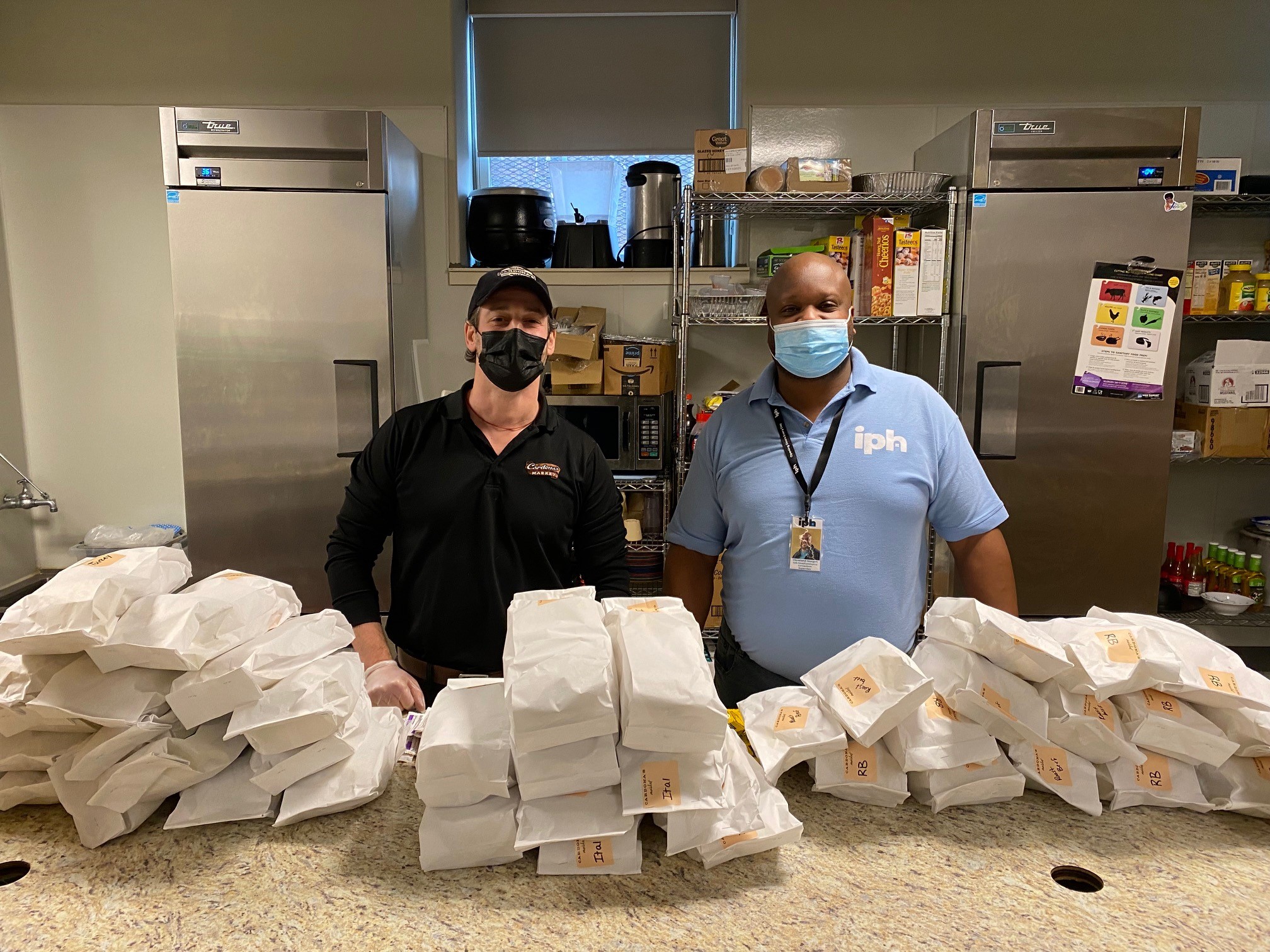 Donations were made possible following the success of the National Sandwich Day charitable campaign in November
ALBANY, NY; December 9, 2021 – Cardona's Market, an Italian specialty grocery and caterer spanning three generations, today celebrated the season of giving by combatting food insecurity in the Capital Region with the delivery of complimentary lunches to those served through the Community Connections program at Interfaith Partnership for the Homeless (IPH). The donation was made possible thanks to Cardona's pledge during National Sandwich Day last month.
Cardona's Market Co-Owner August Cardona was joined by IPH Program Director Cleveland Morgan to hand-deliver the market's signature sandwiches to more than 50 individuals and families served by IPH at The Hoffman Family Center, home of the Community Connections program, on Sheridan Avenue in Albany, NY.
The donation is the result of Cardona's National Sandwich Day fundraising campaign on November 3. During the one-day charitable event, the family-owned neighborhood market pledged $1 from every large sandwich sold to cover the cost of meals to non-profit organizations feeding the hungry in the greater Capital Region.
"We are proud to utilize the funds raised on National Sandwich Day to support the tremendous hunger relief efforts of IPH. We are thrilled to announce this charitable campaign will allow us to deliver nearly 100 meals to help fight food insecurity across the Capital Region," said Cardona's Market Co-Owner August Cardona. "I would like to thank all of our valued guests who joined us on National Sandwich Day to help us support non-profit organizations who work tirelessly to serve those in need and spearhead hunger relief efforts that are so vital to the community."
Operating as a daytime drop-in center, the Community Connections program at IPH provides homeless individuals and low-income families with no-cost access to vital resources, including hot meals, food, clothing, laundry, showers, lockers, mailboxes, case management and housing assistance. The program serves approximately 1,500 guests annually.
"Over the past year, IPH has served more individuals than ever before. As we head into the winter season, we know the need will continue to spike," said IPH Program Director Cleveland Morgan. "We so appreciate the generosity of partners like Cardona's Market, who understand the true meaning of community. We thank the Cardona family for their support and commitment to feeding those experiencing food insecurity."
The National Sandwich Day initiative is one more example of  Cardona's ceaseless commitment to serving the Capital Region community and embracing the importance of being a good neighbor since its founding in 1945. IPH is located just a few miles down the road from Cardona's original flagship store at 340 Delaware Avenue in Albany.
Cardona's Market recently expanded with a newly remodeled store in Latham and a third market location in Saratoga Springs. The Latham market, located at 9 Cobbee Road, and Saratoga Springs market, located at 222 Washington Street, were previously acquired from Roma Foods Importing Company.
For more than 75 years, Cardona's Market has provided Capital Region residents with top-quality Italian products, including meats, cheeses, olives, olive oils, vinegars, pastas and pantry staples. The market features a full selection of fresh-from-the-kitchen dishes, including restaurant-quality grab-and-go meals such as homemade lasagna, eggplant parmigiana, sauces and meatballs. Cardona's also offers a complete menu of hand-crafted sandwiches, artisan salads, aromatic soups and fresh-baked bread.
Current hours for Cardona's Market in Latham and Saratoga Springs are Monday through Saturday from 9 a.m. to 6 p.m. The Latham market is also open on Sunday from 9 a.m. to 3 p.m. The Albany store is open Monday through Saturday from 8 a.m. to 7 p.m.
Serving the community since 1984, IPH is a leader in providing non-denominational programs and services that address the needs of homeless and at-risk individuals and families. Without judgment, IPH provides individualized services to meet each person's unique set of circumstances. IPH operates year-round and seasonal emergency shelters; a housing program; and community-based programs that include a daytime drop-in center and health and wellness services. IPH serves approximately 2,500 individuals and families on an annual basis. For more information about IPH, visit www.iphny.org.
For more information about Cardona's Market, call 518-434-4838 or visit CardonasMarket.com.