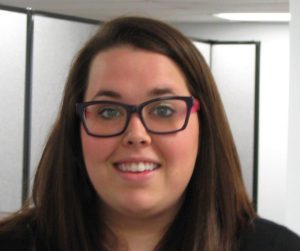 ALBANY, New York, – BST & Co. CPAs, LLP, one of the Capital Region's leading financial and management consulting firms, today announced that Caitlin M. Mochrie has been promoted to the position of manager within its CFO for Hire division.
As manager, Mochrie is part of the team which provides companies with an outsourced alternative for day-to-day accounting services through the firm's CFO for Hire division.
"We are pleased to announce that Caitlin has been promoted to manager," said Ron Guzior, managing partner of BST & Co. CPAs, LLP. "She brings valuable experience to our CFO for Hire division. Her knowledge only adds to our firm's extensive portfolio of services."
Mochrie had served as a CFO for Hire accountant since 2011. She joined BST in 2017 following the firm's acquisition of CFO for Hire. She earned dual bachelor's degrees in accounting and business administration from Elmira College.
Under the BST banner, CFO for Hire offers a variety of bookkeeping and long-term accounting services individually designed to meet each client's needs. Companies served include closely-held businesses in a variety of industries; as well as a large base of not-for-profit organizations.
The division's team members, who have experience ranging from accountant to chief financial officer level, visit the designated client's office on a routine basis to conduct hands-on services, including accounts payable/receivable; collections; financial statement preparation and analysis; budget preparation; month-end closing and account reconciliation; financing and capitalization assistance; as well as investor and board of directors relations.
CFO for Hire also provides oversight of internal financial staff; and can assume the role of interim chief financial officer by offering oversight of a company's accounting and finance departments.
With roots tracing back to 1944, BST & Co. CPAs, LLP is recognized as one of the largest accounting and consulting firms in upstate New York. The firm offers traditional accounting, auditing and tax services; as well as specialty services related to business valuation, forensic accounting, litigation support, employee benefit plan auditing and consulting, governmental auditing and consulting, merger and acquisition assistance, wealth management and personal financial planning, and estate and gift tax consulting, amongst other services. The firm is a long-standing member of the RSM US Alliance, a premier affiliation of independent accounting and consulting firms in the United States.
About BST & Co., LLP
BST & Co. CPAs, LLP is a multi-disciplinary financial and management consulting firm headquartered in Albany serving the needs of closely-held companies, family-owned businesses, not-for-profit and governmental entities, and high-net worth individuals. BST offers a broad portfolio of accounting and auditing, tax, consulting, outsourced accounting and human resources services; as well as wealth management services, valuations, forensic accounting and litigation support. For more information, visit www.BSTco.com.