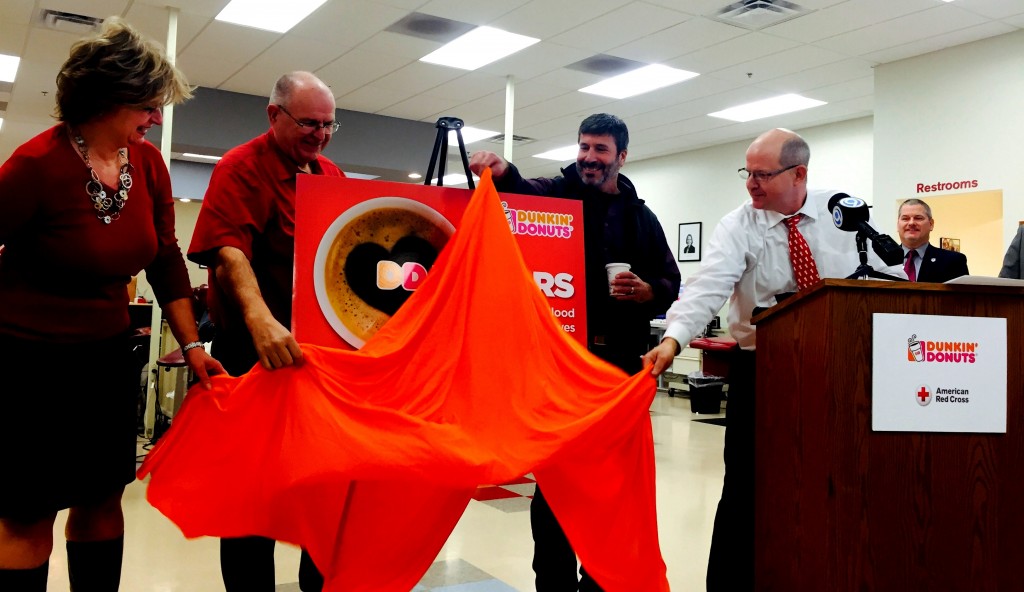 All those who give blood or platelets in January will receive a $5 Dunkin' Donuts gift card
CENTRAL NEW YORK; — For the ninth year, the American Red Cross and Dunkin' Donuts will partner in January to help increase donations and reward generous donors during National Blood Donor Month. Through the "Dunkin' Donors Make a Difference" campaign, all those who come to give blood or platelets in January at Red Cross blood drives in Connecticut, Maine, Massachusetts, New Hampshire, Vermont and parts of New York will receive a $5 Dunkin' Donuts gift card.*
"Donating blood or platelets helps to save lives, and with Dunkin' Donuts' support, we can help ensure donations keep pace with hospital patient needs during a month that can be challenging for blood donations," said Rosie Taravella, CEO, Western and Central New York Region, American Red Cross. "By giving blood or platelets, generous volunteer donors can make a difference and help maintain a sufficient supply for patients in need."
The DD Card can be used toward the purchase of any item at participating Dunkin' Donuts – including coffee, hot chocolate and baked goods, among other items. In addition, the DD gift card features a Red Cross logo, is reloadable and can also be enrolled in the DD Perks® Rewards program.
"The Dunkin' Donors Make a Difference campaign increasingly resonates with donors and benefits countless people and communities in need," said Eric Stensland, field marketing manager, Dunkin' Donuts. "We're proud to partner with the Red Cross once again to thank blood donors this January. This campaign reflects Dunkin' Donuts' steadfast commitment to the communities in which we live and operate."
"Dunkin' Donuts' support during National Blood Donor Month is integral to the Red Cross in meeting the blood needs of the communities we serve," said Donna M. Morrissey, director of national partnerships, Red Cross Biomedical Services. "The DD gift card provides a visual reminder that blood donation is a truly heroic act. It serves as a badge of honor for Red Cross blood and platelet donors both during the campaign and throughout the year."
The Red Cross and Dunkin' Donuts partnership has achieved great success during the past eight years by supporting the collection of approximately 660,000 blood and platelet donations during January, which is often a challenging month for donations due to winter weather forcing blood drives to cancel and seasonal illnesses temporarily keeping some donors at home. In 2015, nearly 100,000 blood and platelet donors rolled up their sleeves to become "DD Donors" during the Dunkin' Donors Make a Difference campaign, which was extended through mid-February to support collections in the wake of severe storms throughout the Northeast United States. Throughout the campaign, Dunkin' Donuts franchisees will also participate by hosting blood drives, providing refreshments and encouraging employees and customers to give blood.
National Blood Donor Month honors those who share their good health with patients in need, and the Red Cross and Dunkin' Donuts are proud to honor blood and platelet donors with the Dunkin' Donors Make a Difference campaign. Since 1970, January has been named National Blood Donor Month to honor the selfless people who give of themselves as blood donors.
How to donate blood
All blood types are needed to ensure a reliable supply for patients. A blood donor card or driver's license or two other forms of identification are required at check-in. Individuals who are 17 years of age (16 with parental consent in some states), weigh at least 110 pounds and are in generally good health may be eligible to donate blood. High school students and other donors 18 years of age and younger also have to meet certain height and weight requirements.
Blood donors can now save time at their next donation by using RapidPass to complete their pre-donation reading and health history questionnaire online, on the day of their donation, prior to arriving at the blood drive. To get started, visit redcrossblood.org/RapidPass and follow the instructions on the site.
About the American Red Cross
The American Red Cross shelters, feeds and provides emotional support to victims of disasters; supplies about 40 percent of the nation's blood; teaches skills that save lives; provides international humanitarian aid; and supports military members and their families. The Red Cross is a not-for-profit organization that depends on volunteers and the generosity of the American public to perform its mission. For more information, please visit redcross.org or visit us on Twitter at @RedCross.
About Dunkin' Donuts
Founded in 1950, Dunkin' Donuts is America's favorite all-day, everyday stop for coffee and baked goods. Dunkin' Donuts is a market leader in the hot regular/decaf/flavored coffee, iced coffee, donut, bagel and muffin categories. Dunkin' Donuts has earned the No. 1 ranking for customer loyalty in the coffee category by Brand Keys for eight years running. The company has more than 11,000 restaurants in 33 countries worldwide. Based in Canton, Mass., Dunkin' Donuts is part of the Dunkin' Brands Group, Inc. (Nasdaq: DNKN) family of companies. For more information, visit www.DunkinDonuts.com.
*DD Cards are redeemable at participating Dunkin' Donuts locations. Dunkin' Donor Cards are non-transferrable and not redeemable for cash.