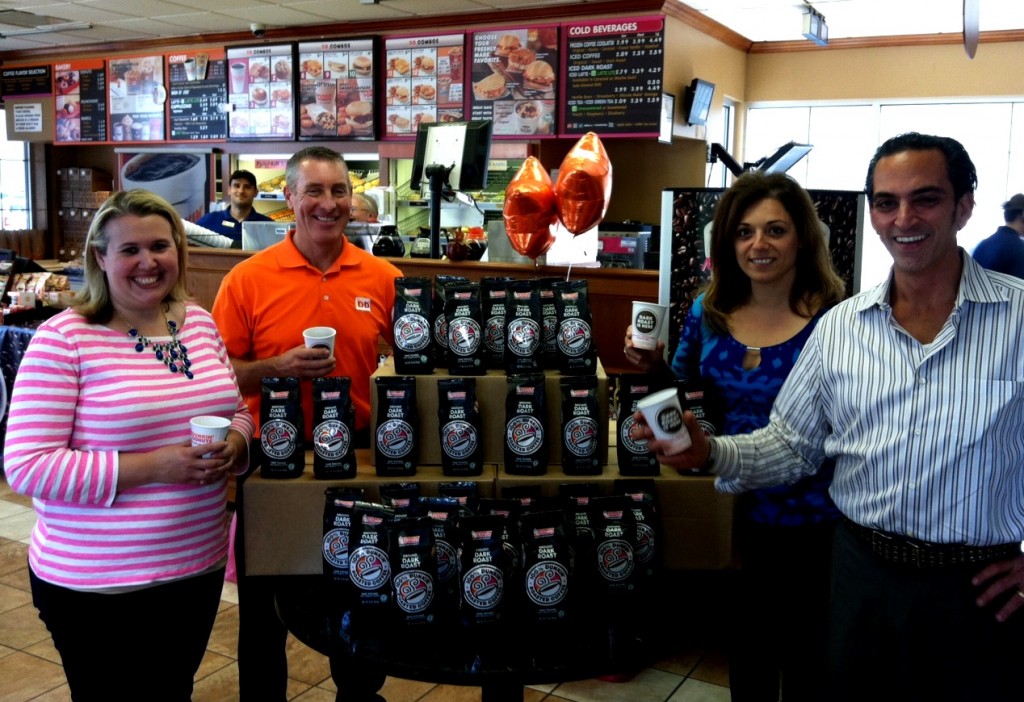 Dunkin' Donuts donates 100 pounds of coffee to Foodlink
ROCHESTER, New York – Today, September 29, is National Coffee Day, and Dunkin' Donuts is celebrating the holiday and its new Rainforest Alliance Certified™ Dark Roast Coffee in some very bold ways. Today, guests can walk into any participating Dunkin' Donuts restaurant across the country and receive a free medium cup of Dunkin' Donuts hot Dark Roast Coffee, with a limit of one per guest. The new Dark Roast, launched nationwide last week, uses a unique roasting process to create a bold flavor and smooth finish without the bitterness typically associated with most dark roast coffees.
To celebrate National Coffee Day and the launch of its new Dark Roast blend, Dunkin' Donuts today donated 100 pounds of coffee to Foodlink. The agency redistributes more than 11 million pounds of food each year to 450 human service organizations in the Genesee Valley and Finger Lakes Region.
"Dunkin' Donuts is honored to donate 100 pounds of coffee to Foodlink to commemorate our new Dunkin' Donuts Dark Roast Coffee ," said Tamara Tenenbaum, field marketing manager for Dunkin' Donuts. "The Food Bank impacts thousands of lives every day, and we're proud to support its mission as we celebrate National Coffee Day and the launch of our new Dark Roast."
Beginning tomorrow, September 30, through November 2, guests can enjoy a medium cup of Dunkin' Donuts hot Dark Roast Coffee for the special price of 99 cents.
Dunkin' Donuts guests can enjoy the new Dark Roast Coffee served either hot or iced, and it is also available for sale for brewing at home in both packaged coffee and in K-Cup packs, for use with Keurig® Brewing systems. Dunkin' Donuts' new Dark Roast features the Rainforest Alliance Certified seal, indicating that it is made with at least 30% coffee beans sourced from Rainforest Alliance Certified farms. The Rainforest Alliance is an international nonprofit organization that works to conserve biodiversity and ensure sustainable livelihoods. Rainforest Alliance certification helps to protect wildlife; safeguard soils and waterways; and improve quality of life for workers, their families and local communities in order to achieve true, long-term sustainability.
To learn more about Dunkin' Donuts, visit www.DunkinDonuts.com or follow us on Facebook (www.facebook.com/DunkinDonuts) and Twitter (www.twitter.com/DunkinDonuts).
###
About Dunkin' Donuts
Founded in 1950, Dunkin' Donuts is America's favorite all-day, everyday stop for coffee and baked goods. Dunkin' Donuts is a market leader in the hot regular/decaf/flavored coffee, iced coffee, donut, bagel and muffin categories. Dunkin' Donuts has earned the No. 1 ranking for customer loyalty in the coffee category by Brand Keys for eight years running. The company has nearly 11,000 restaurants in 33 countries worldwide. Based in Canton, Mass., Dunkin' Donuts is part of the Dunkin' Brands Group, Inc.